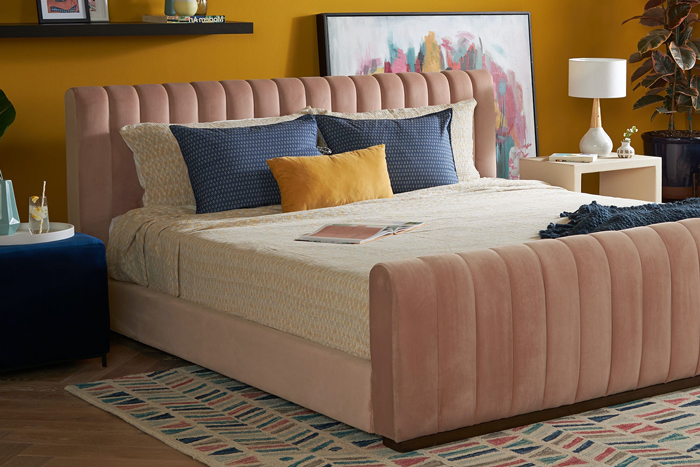 Feature Image by Joybird
Home decorating is one of those pastimes that seems boring when you're younger but quickly turns into a chance to express your style and curate a place to retreat in your everyday life.
It's because of this that knowing how to select the perfect furniture for your home based on where you're at in life is so beneficial. Keep reading for what experts have to say about where to start when decorating your home fresh out of college, as a single gal, first-time pet parent, newlywed, and parent. Cheers to creating the home of your dreams!
Recent Grads
If you're transitioning from a dorm room to your first apartment, you're probably looking for ways to maximize your space and budget.
The best way to set yourself up for sleep success is to invest in the very space where you snooze. "Invest in a great mattress if you can swing it!" Black Lacquer Design founder Caitlin Murray says. "…you'll seriously need decent sleep when heading into the workforce and a mattress will last for several." You'll fall in love with this cooling mattress that's designed to cradle your body while you sleep, all while promoting better alignment from head to toe.
To make the most of your space, Article product development manager Nicole Hunt shares the importance of finding items with dual purposes. "…choose a sofa that can double up as a bed when you have guests over," she said. This top-rated velvet sleeper sofa seats three people comfortably and converts into a full-size bed.
To stretch your budget, Allform co-CEO and founder Adam Tishman says, "Allocate more budget towards furniture that will experience a lot of wear and tear like a dining table, bed set, or sofa that will get daily use rather than items like lamps or credenzas." If dinners are a major source of joy for you and your friends, having a table large like this extendable table in walnut is a must.
---
Bachelorette Pads
Like their male counterpart, these female-first homes are all about comfort, camaraderie, and a whole lot of fun.
"Now is the time to purchase pieces that make you swoon — like a statement piece of art or a beautiful pink sofa. Allow your space to be a true reflection of who you are," exclaims Avenue Interior Design co-founder Andrea DeRosa. Given the current times and the overall prevalence of anxiety, we can't help but swoon over this particular piece by Robyn Blair.
Once you've established the vibe, it's time to think about how you're going to accommodate gusts when they visit. "Sectional sofas are an excellent option for accommodating all your friends without everyone feeling like they're on top of one another," says Tishman.
Lastly, hone in on how you're going to entertain your BFFs. "Bar carts for on-a-whim entertaining and a proper dining set built for dinner parties are great investments at this stage in life where it's all about fun and friends," Murray says. This upholstered velvet number will help store liquid entertainment for your guests. Plus, its very appearance will serve as fodder at your dinner parties.
---
First-Time Pet Owners
Pets are the best, but they can also make a mess and go totally wild when the zoomies kick in. For this reason, it's important to decorate your home with them in mind.
While there's no such thing as 100% pet proof furniture, Hunt says, "If you're considering fabric, look for something with a tight weave, so claws don't get caught in the fibers, and a high Martindale rating, which is a test for assessing the performance of a fabric." This cozy leather chair has a low profile so your pet will be able to easily jump up onto it and thanks to its durable leather design, you don't have to worry about them wreaking havoc on the appearance.
Of course, you can skip the major furniture concerns and instead focus on curating a specialty pet haven just for them. Seriously, how cute is this donut dog bed? The design itself will make your pup feel cuddled from every angle, so they will want to cozy up in their space instead of on the couch.
---
Newlyweds
Congratulations! You're officially hitched. Now, it's time to marry you and your partner's furniture and decor. And with combination comes compromise, namely, which items should go on display and which should be stored away.
"Use a chic cabinet or bookcase that can showcase or hide both people's important collectibles," suggests Samantha Gallacher, founder of Art + Loom and IG Workshop. This funky bookshelf will display your and your partner's items in the most stylish way. And, since it's metal, it's super easy to clean!
Additionally, since you likely received loads of linens and bedding from your wedding registry, Murray says that this is the perfect stage to invest in a proper bed frame to put them to good use. With more than 50 fabrics to choose from, you can create your ultimate dreamscape with this truly photogenic bed frame.
---
New Parents
If you have a little one, you're well aware of just how much planning comes along with their entry into the world — and your home! While there are so many ways that you can decorate your house with your babe(s) in mind, there are a few standouts that will make a big difference in your sanity and their safety.
"To ensure your new furniture stays looking great as it grows with your family, invest in high-quality pieces that are durable and resistant to scratches, spills, and stains," Tishman says. "When it comes to sofas, look for a frame made of solid wood that won't warp over time or sway with little ones jumping on the cushions." This ultra-cozy sofa is sold in this gray color, as well as a gorgeous bright white—both of which are designed to withstand spit-up or a new discovery of magic markers
Second, search for storage solutions that will keep your little one's things organized and contained. Murray shares, "This is a great point to focus on space planning and ways to work case pieces — dressers, credenzas, wardrobes, chests, etc. — into the home." We love the large knobs on this dresser — tres retro and very child friendly.
Lastly, if your little one is about to start walking, be mindful of corners that could cause cuts and bruises if banged into. "If you think about it, your living room is probably the main space that the whole family will be spending time in, which is why a round, sturdy coffee table is key. I love to use rustic wood tables so scratches aren't noticeable or upholstered/leather coffee table ottomans [AKA poufs]," advises says stylist Michelle Pullman, aka Girl on the Hudson.
xx, The FabFitFun Team