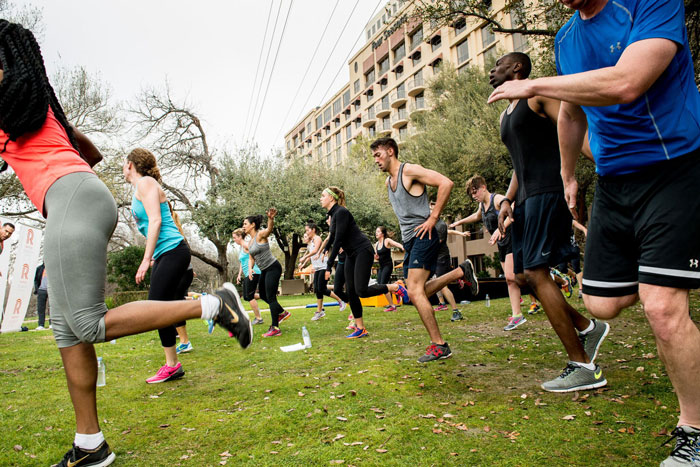 Feature Image by SXSW
When we want to up our health and wellness game, we typically take up a new workout class or indulge in a face mask and a bubble bath. But what else can you do to treat and take care of yourself? For starters, you can check out SXSW's first-ever Wellness Expo, which features industry experts and instructors from all over the world!
Lucky for you, the Wellness Expo is free with the SXSW Guest Pass. Simply register online and you've got a golden ticket to amazing fitness instructors, wellness experts, and mental health researchers who will teach you all there is to know about living a happy and healthy life.
Here are some must-see events at the Wellness Expo:
Find What Feels Good Yoga
A great self-care practice starts with one thing: a commitment to self-love. And this all-levels yoga class is centered on both! The afternoon class is led by Austin-native actress, yoga teacher, and entrepreneur Adriene Mishler of Yoga with Adriene. Her focus is to guide an all-levels flow practice that targets both the mind and body. You'll leave with a stronger, leaner body, stretched muscles, and an overall more gracious mindset. Don't forget to BYOYM (bring your own yoga mat!)
Holistic Guide to Optimum Sleep
Raise your hand if you're in a committed relationship with your bed. Us too! It seems like our weekends are spent binge-sleeping, while our weeknights are always cut short a couple hours. Holistic nutritionist, Jennifer Hanway, is ready to switch the focus on sleep. She thinks a well-rounded health and wellness regime is more impactful for getting in those full eight-hours than any pre-bedtime tip or trick. It's bound to be the presentation of your dreams.
The Power of Pets
This should come as no surprise…pets are good for the soul! This 30-minute session is lead by David Haworth, Ph.D, chair of the Research Working Group for the Human Animal Bond Research Institute and the president of PetSmart Charities®. He explores the connection between humans and animals and the many mental health benefits they bring. In short, they make every day a little less ruff.
Women of Clean Beauty
Did you know that the U.S. FDA has banned less than 30 ingredients compared to 1400 in the EU? That should be reason enough to make the switch to clean and natural beauty products! This panel of green beauty professionals will dive into the current standards of the beauty industry and highlight ways consumers can educate themselves before purchasing new masks and mascaras.
Afternoon Revival presented by Yoga Wake Up
Our idea of an afternoon fiesta is a group siesta. This hour long class is focused on rebooting your mind and body for the rest of the day! It starts with a relaxing savasana, followed by a vinyasa flow, and closing with group meditation. This is the midday self-care practice you need.
xx, The FabFitFun Team