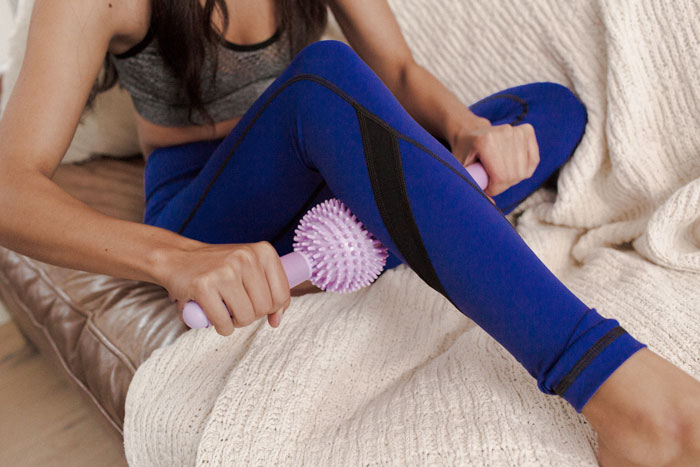 SPRING 2018 BOX PARTNER
Give tired muscles the proper TLC it deserves while breaking up scar tissue, improving flexibility, and keeping soreness at bay.
Unlike your traditional foam roller, the Physique 57 Massage Roller features two spiky balls (don't worry, they don't hurt!), which help target your muscles even better. Plus, the long handles on both ends allow for a tight grip to make this post-sweat sesh recovery tool highly effective. Check out 10 ways you can treat sore muscles and get the most out of the massage roller.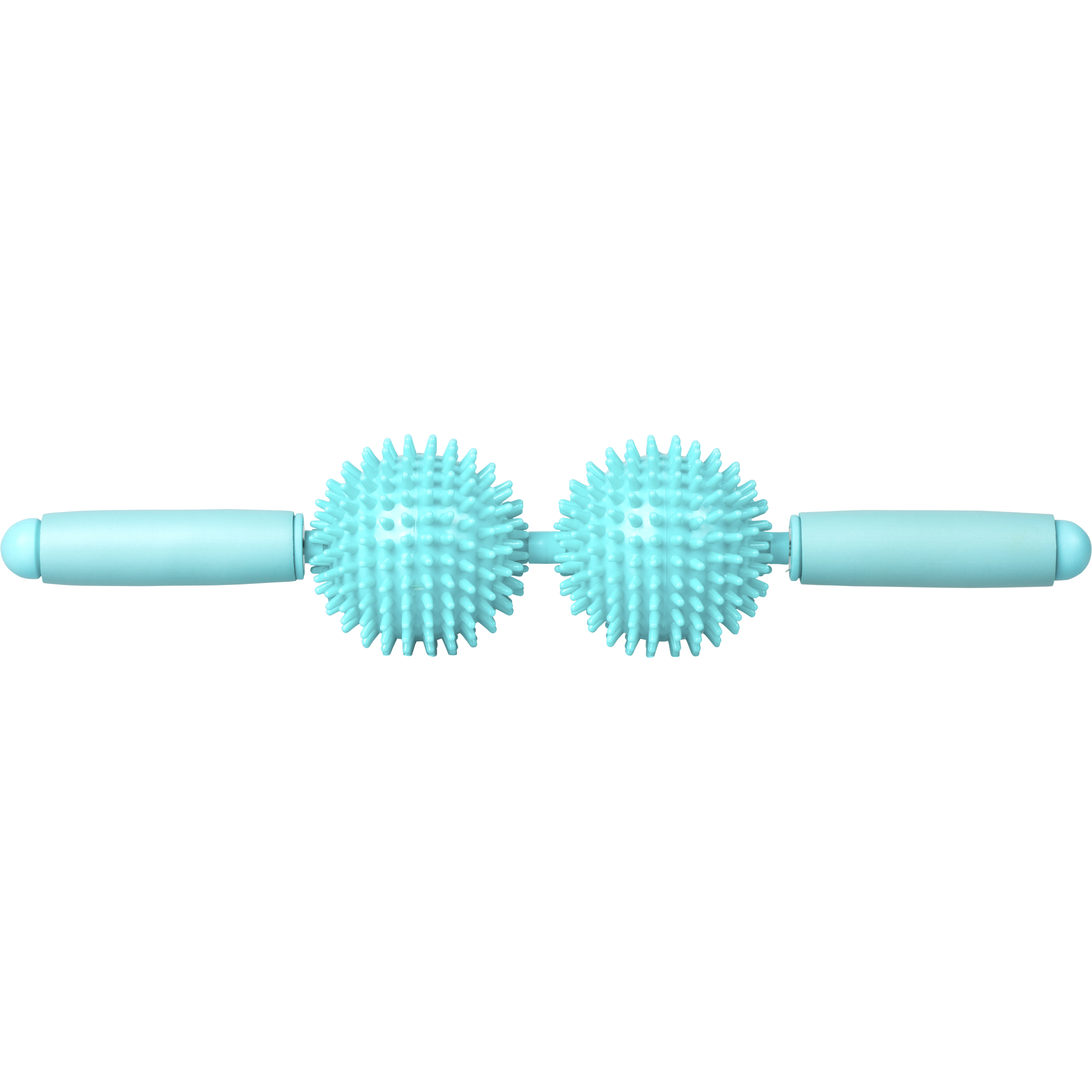 Back of neck
It's easy to put strain on the back of your neck when working out, which is why it's important to roll it out with a good ol' massage. Hold the massage roller horizontally with both hands behind your neck and roll up and down. If the position feels uncomfortable, hold the massage roller against a wall and shift your body up and down for the same effect.
Shoulders
You'd be surprised how much tension builds up in your shoulders. Soothe tight muscles by placing the massage roller perpendicular to your shoulder. Place your hand in between the balls to maneuver the massage roller and target the desired area.
Lower back
Even if you don't work out, a common mistake people make when lifting heavy items off the ground is putting pressure on their lower back rather than using their legs. If your lower back is aching, lie on your back with the massage roller underneath and simply sway your body up and down to relieve some of the tenderness.
Abs
We all want those abs, but ab workouts sure have a way leaving you exhausted and sore for days. Speed up the recovery process by rolling the massage roller up and down your chest and abs. If you want more pressure, lie on your stomach with the massage roller underneath.
Glutes
Did one too many squats? Don't worry, you can give your buttocks a nice massage, too. Sit on the massage roller and bend your legs, placing your feet flat on the floor. Start shifting your body back and forth while rolling the massage roller across your bottom.
Hips
Hold the massage roller in both hands and roll it in all directions until you find a spot that feels good to you.
Quads
Your quads are one of the largest muscles in your body, so make sure they're always in tiptop shape. While sitting, center the massage roller on your quads and roll it back and forth, focusing on any tender spots.
Hamstrings
Don't neglect the back of your thigh! Sit at the end of a chair and place the massage roller under your thigh and start rolling it up and down. Your legs will thank you in the morning.
Calves
If you've been working out your calves, you want to make sure you release the tightness to avoid any future injuries. Sit on the floor and hold the massage roller behind your calves. Roll it back and forth until you find the sweet spot – add more pressure if necessary!
Soles of feet
Who needs a professional foot massage when you've got the next best thing? Place the massage roller on the floor and start rolling it up and down. You can do this while sitting down or standing up to add more pressure.
xx, The FabFitFun Team
P.S. Psst! Have you signed up for the #FabFitFun box yet? Don't miss out on $200+ in amazing beauty, fitness, fashion, and lifestyle products every season. Join today!
To get the most out of your box products, make sure to check out the Insider page.