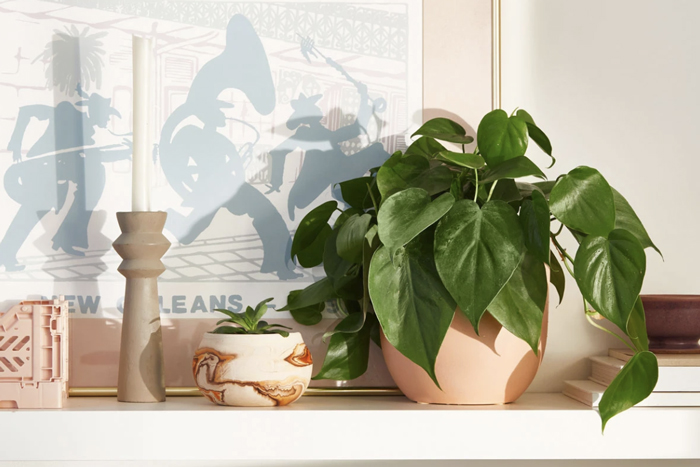 Feature Image by The Sill
We all have that someone in our lives that puts the friend in eco-friendly. They have a loving relationship with Mother Earth and love to talk about the ways in which you can give back to her. That may not be your cup of tea, or maybe it is, but this person deserves something that speaks to their calling. Do they simply want plants? Reusable totes? Let's think a little outside of the box.
This holiday season, give them something that goes beyond just the basics. From eco-conscious deodorant to the books that have lived many lives, we're dishing out some eco-friendly gifts that your loved one will be proud to use.
The ZZ Plant and philodendron are the two most resilient plants out there. These cuties are easy to care for and yet taking care of them is still a simple way to show some love to our Earth.
---
Make the humble choice (sorry, not sorry) and get your friend a clean deodorant. Humble Brands is made of four simple ingredients, those being coconut oil, non-GMO corn starch, beeswax, and baking soda. It's a natural choice for a sensitive area — and the holiday scents are simply delicious to the senses.
---
If you've got a sustainable beauty queen in your life, Versed is it. Versed is vegan, non-toxic, and cruelty-free. For the girl who loves a morning glow, give the Sunday Morning Antioxidant Oil-Serum. If she's got a case of dryness, she might love the Skin Soak Rich Moisture Cream as we did. Versed offers a remedy for all skin types, so gifting this beauty brand will be easy.
---
Whether you're packing lunches for school, prepping for a camping trip, or just love to keep snacks to-go for when the little ones are hungry on the fly — this set is all you need. The recycled casing is available in four different colors, and the cutlery is made of bamboo, which is both heat and stain-resistant. Your eco-friendly momma friend will love this (and you) forever, we promise.
---
Search from a virtual library of classics with the help of Thriftbooks. You can help your eco-conscious gal stock up on good reads without having to buy from over-the-top sellers who don't need the help. A purchase from Thriftbooks gives back to small businesses and helps keep the pages of our favorite books turning for just a little longer.
---
Food is so easy to waste. You toss what you don't finish, and what happens after that? Sometimes we never know (but we have a good idea). For your sustainable sidekick, give them a gift that gives back in the best way. This compost bin will hold all the food scraps and is super easy to clean and store.
---
The low-maintenance, eco-conscious friend is hard to shop for because they're well — low-maintenance. That's why the Odele Air Dry Styler is great. This vegan, cruelty-free hair product conditions and smoothes hair so it can dry au naturel, giving her hair that lived-in, artfully rumpled yet never messy look.
---
If you've noticed that your friend is all about the fun scents, we have the perfect gift for them. We are sort of over these harmful chemicals that are hidden within the wax of some of our beloved candles, but that's why there are small-owned businesses like Safe Scents to offer an environmentally friendly solution. Safe Scents candles are infused with scents like clove bud, lavender, vanilla, and more that are oh-so-good.
xx, The FabFitFun Team
P.S. You can find sustainable goodies like these (plus more!) in the FabFitFun box. Use code GOODIESGALORE for 20% off your first box, access to member-exclusive sales, exclusive fitness and cooking content on FabFitFunTV, and tons more perks.