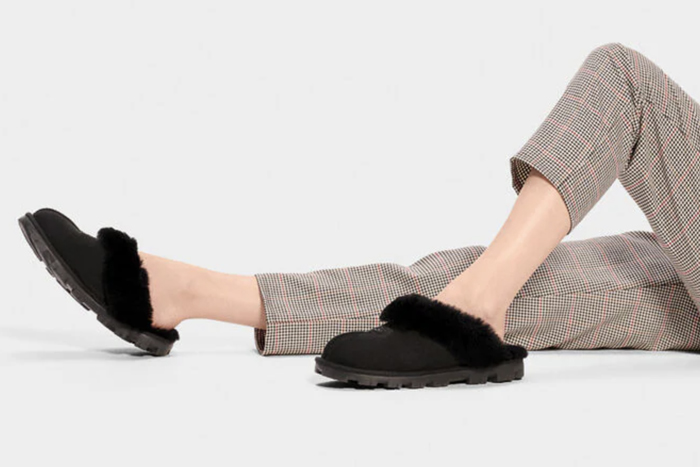 Feature Image by UGG
The past year has changed what we know about street-ready fashion. Case in point? Like their top and bottom counterparts, slippers have made their way as homebound loungewear to shoes worthy of strutting down Fifth Avenue. But it's not just New York City that's seeing the trend. Everywhere, from Washington D.C. to Austin and Los Angeles, is seeing a rise in cozy, fuzzy slippers outside the home. This, of course, leads us to wonder: Is it time for a new pair of slippers?
If you're using the resurgence of slippers-as-street shoes as an excuse to justify another cozy purchase, we fully support you. So much so, in fact, that we've rounded up 10 fuzzy slippers that are anything but homebound. Each pair is equipped with a street-ready sole—a must for street slippers—and undeniable style. But only one question remains: Will you be able to narrow it down to one pair?
While plenty of rubber-soled slippers existed before the emergence of UGGs, it's these Australian slippies that started the trend back in the early 2000s and brought it back here in 2020. It's only fitting that we pay credit where credit is due, no?
---
White fur in winter? A daring choice that fits well with the slippers-as-shoes fashion trend. These slides are a celebrity favorite, so don't be surprised if they sell out fast. (P.S. They're also available in black, rose, and nude shades.)
---
These rich cinnamon shade slippers are simply too luscious to pass up. Thanks to the faux leather tip, they look especially fancy.
---
Two of 2020's biggest trends tied into one comfy shoe: tie-dye and furry slippers. Needless to say, you're sure to earn endless compliments in these colorful cuties.
---
Love the idea of white slippers but want to skip the blatant branding? These shearling slippers remind us of the furniture textile that took 2020 by storm.
---
If you didn't have UGG slippers back in the day, you probably had L.L. Bean's moccasins. The shearling-lined slippers have a durable rubber sole that offers extra traction while navigating the outdoors.
---
These fluffy slips remind us of the ones from A Little Princess—albeit modern and less fancy. Cozy, stylish, and bound to be by your side (er, on your feet) for some of life's most heart- (and feet-) warming stories.
---
In case you were wondering, leopard print isn't going anywhere. So, if you're looking for a bolder take on a neutral palette, you can't go wrong with these cozy slips.
---

More of an outdoorsy person? These furry slippers offer the utility of a sneaker by securing your foot with an elastic ankle.
---
Knowing that platforms are just as popular as the utmost comfort, UGG released a series of tall slippers, all of which add a few centimeters to your height. These tack on almost two extra inches and look especially stylish paired with socks.
xx, The FabFitFun Team