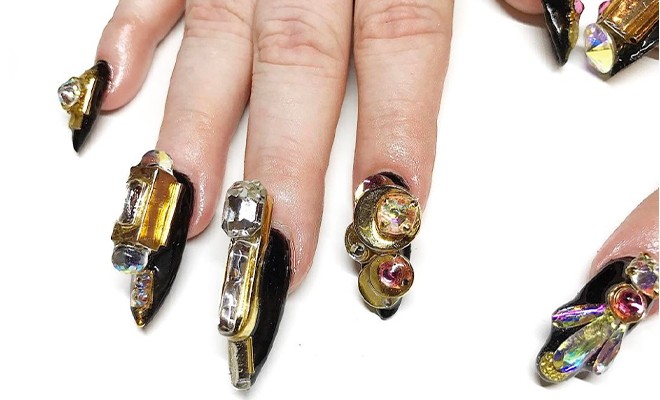 @chrmdbysarah
Fashion week isn't just to present the latest fashion trends, but it's also to show off a batch of crazy nail art each season.
We thought we had seen it all (remember furry nails?), but these Insta accounts and designers have proved us wrong. From overly pierced nails to a lace inspired print, it looks like we're going to have to step up our nail game this spring!
Embellished
Ornate creations have gotten plenty of attention across social media. Sarah Nguyen of @chrmdbysarah creates incredible and intricate manicures using rhinestones. The 3D nails are the result of stacking the stones and creating gorgeous eye-catching layers.
---
Pop of Color
And we literally mean, a single pop of color. Leave the rest of your nails bare with this interesting concept seen at Tibi's runway show. If you're into flamboyant nails, steer clear — this might be one of the simplest manis we have ever seen (aka a lazy girl's dream!).
---
Pierced
Looking to add a little grunge to your look? Park Eun Kyung of @nail_unistella, the popular account behind the wire nails phenomenon, shared photos of pierced nails on Instagram and it grabbed every nail-obsessed girl's attention.
---
Logo
Logomania has finally found its way to our fingertips (and we're not complaining!). Sport some of your favorite brands on your nails, like this Louis Vuitton x Supreme variation.
---
Lace
Don't limit lace to just your lingerie — try it on your fingers and toes at your next nail appointment. If you like to keep your nails pretty neutral, you might have to reconsider to try this fabric inspired manicure.
---
Whiskers
Get a little animalistic when you add whiskers to your painted fingers. During Libertine's runway show, they gave the models wild manis to match their looks. Add a few beads and sequins to make it even more stunning!
Would you try any of these nail trends? Share in the comments below!
xx, The FabFitFun Team