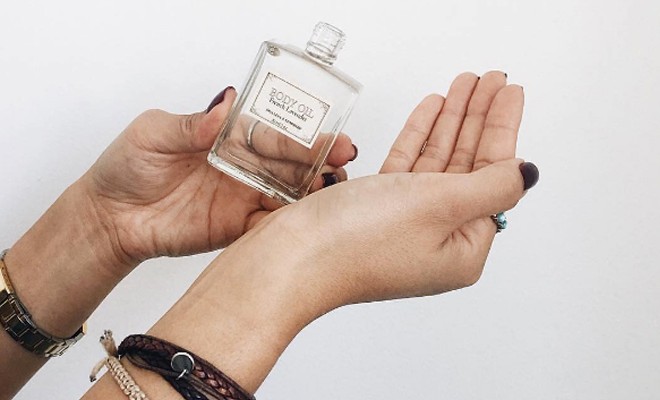 @mulleinandsparrow
Sure, you've heard about body oils, but have you ever tried them? We feel fairly certain that once you give them a go, you'll ditch your lotion for good.
Don't worry, incorporating body oils into your routine is incredibly easy. Not only that, body oils do everything that your favorite moisturizing lotion can do and more. Trust us when we say you won't miss that bottle of lotion one bit.
Here's how we like to use body oils:
Drop some into the bath
Now, this is one place your normal lotion can't go. Add a few drops of body oil to the bath to let the moisturizing process begin as you soak.
Apply all over post-shower
Before toweling off and while your skin is still damp, drop oil over your entire body. A little goes a long way and works wonders to replenish dry skin. We like to use the H2o Plus On the Move Dry Body Oil in Teak Rose for its amazing aroma and moisturizing properties.
Show extra dry spots TLC
Give those pesky dry spots (like heels and cuticles) an extra dose of oil to show those areas some tender love and care. It'll make all the difference in the long run.
Use it as a massage oil
Another great way to put your body oil to good use is to use it as a massage oil. Have your S.O. massage your back, feet, or wherever you need it the most. This will make your skin soft, loosen up the muscles, and relieve stress — basically, using an oil is an all-around win.
Eliminate stretch marks
Because oils penetrate deep beyond that first layer of skin, they're great for reducing the appearance of stretch marks. You'll notice a difference over time as oils work to promote elasticity, preventing stretch marks from showing up again.
Prevent razor burn
If you've ever cut yourself while shaving (because it happens to the best of us), then you know just how important it is to prep your skin pre-shave. Apply oil to your legs for a clean shave sans the razor burns.
Take advantage of their healing powers
Certain oils are infused with scents, which can work wonders to relieve stress. For example, if you have a headache, rub a lavender or peppermint based body oil on your temples.
xx, The FabFitFun Team