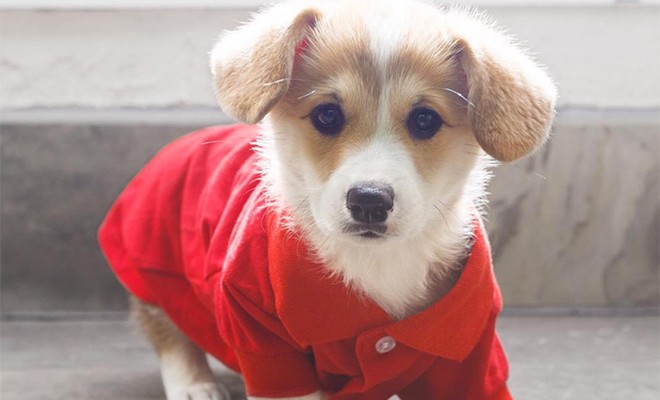 @lacorgi
There's nothing like a best friend. They support you on your worst days, know all your deepest, darkest secrets, and love you unconditionally.
But that BFF love runs even deeper for our four-legged friends. The big eyes, the wet nose, the wagging tail — nothing can compare to the love you and your furry pal share. Some people love their dogs so much that they've created social media accounts solely dedicated to them.
In honor of National Dog Day (August 26), here are our 10 favorite dog accounts.
@poochofnyc
Agador is the beloved dog of NYC (hence the IG handle). From big, curly hair to sunglasses and an amazing fashion sense, there's no wonder this pooch's account has more than 82,000 followers and even a merch line.
---
@baby.beckham
All hail Baby Beckham. This samoyed puppy's thick, white fur is always groomed to perfection, making him look extra luxurious. But looks aside, he seems to enjoy the simple things in life including traveling with his mom and swimming.
---
@thedogist
If you want an overload of beautiful pups to stare at while you're at work, this account has you covered. The Dogist is a photo-documentary series from the author of the NYT bestselling book, "The Dogist." Prepare yourself to be completely distracted from whatever you were doing before.
---
@life_of_howard
Follow the illustrious life of Howard. This Santa Monica-based golden retriever spends his days frolicking with dad and mom in the California sun. He even offers life advice from time to time with the hashtag #advicefromHoward. When not at the beach or boardwalk, you might catch him at Skyzone getting in a quick workout.
---
@itsdougthepug
Doug is a beloved pug that you'll want to follow ASAP. He has a thing for food, so while he may not share with you, he is more than happy to share pictures of himself with his favorite tasty treats — complete with a witty pun. Did we mention his favorite show is "Riverdale?" What's not to love?
---
@puppystagrams
1.6 million people agree that this feed is a necessary addition to your social media life. Instagram users tag the account to get their pup featured and gain instant stardom. This account puts the #mypupisthecutest hashtag to the test. But with so many puppies, it's really hard to just choose one.
---
@popeyethefoodie
As an L.A.-based foodie, Popeye knows a thing or two about finding a good meal. As a dog, Popeye understands the importance of #petfriendly dining and can help you if you're ever in need of a great brunch spot in the city of angels.
---
@lacorgi
You won't be able to help but fall in love with this corgi. Geordie La Corgi is a butt model, athlete, and food enthusiast. This corgi has lots of emotions, which are always on full display, and isn't afraid to give side eye when deemed necessary. Born for stardom, Geordie is all about maintaining eye contact with the camera.
---
@thefugee
Fugee's Instagram account will melt your heart over with lots of #dogpersonality, and it will also encourage you to adopt a dog. This dog loves a good high five, catching some air, a head tilt from time to time, and good company by her side. She even knows Chewbacca!
---
@burrito_the_corgi
This Texas pup loves a good nap, so everyone can basically relate to him. Burrito, like a true Texan, loves chips and guac, enjoys staying by his mom's side, and is known for being a lady's man.
xx, The FabFitFun Team