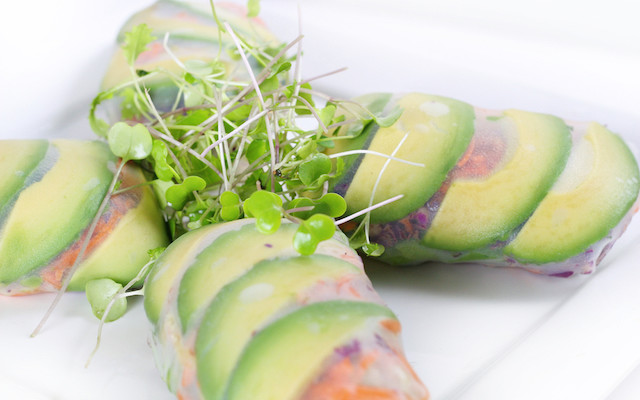 Spring is coming and we're ready to roll! No really, we're celebrating warmer weather with a delish Avocado Spring Roll. We're talking light, crunchy textures, and bright flavors — this is one dish we never get sick of. But when buying spring rolls from the supermarket, they're actually quite expensive for being loaded with such simple ingredients. (What's up with that?!) So we took matters into our own hands, and decided to make these bomb veggie spring rolls for you to try at home.
Working with rice paper can be very intimidating, we know. It took us a while to build up the courage to just go for it, but to our surprise, rice paper isn't as delicate as you'd think. Think of rice paper as a slightly thinner and smaller version of a tortilla. How would you wrap a burrito? You'd pretty much do the same for these spring rolls, just with a lighter hand. Veggie spring rolls are perfect to make for the warmer months to come, and are def bikini bod-approved too! We recommend omitting the traditional peanut and teriyaki dipping sauces to go with them, as they tend to be loaded with sugar.
Avocado Spring Rolls
Ingredients
5-6 rice paper wraps
1 small bowl warm water
1/2 cup Romaine lettuce, shredded
1/2 cup carrots, shredded
1 avocado, sliced thin
1/2 cup red cabbage, shredded
1/2 cucumber, seeded peeled and julienne cut
salt and pepper to taste
Directions
1. Wet the sheet of rice paper with warm water, and set onto a cutting board, or any flat surface.
2. Take a little bit of all of the vegetable ingredients except for the avocado slices, and place in the center of the wrap. Place the a couple avocado slices on top of the other veggies.
3. Fold the sides of the rice paper towards the center of the wrap, then take the bottom part of the wrap and fold upward towards the center of the wrap as well. Begin to fold the wrap until it is completely rolled (as you would when wrapping a burrito).
4. Set the finished spring roll onto plate, and repeat process for the other wraps until all ingredients are used up.
xx, The FabFitFun Team