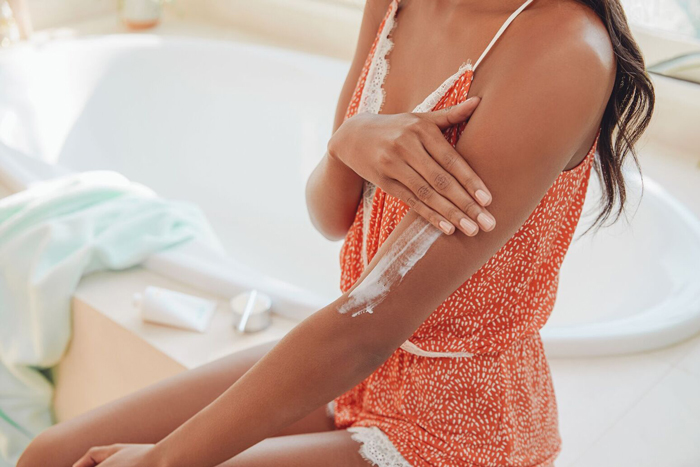 SPRING 2019 EDITOR'S BOX PARTNER
If you're like us, then you probably have a bathroom cabinet overflowing with mud masks, moisturizers, and serums galore. But have you ever thought about skin care beyond your face? Well, you should.
A well-rounded beauty routine includes products for your body and your mind (because beauty is more than just skin deep, right?). Here are seven steps you should add to your current regimen.
Treat yo' scalp
Good hair hygiene can help manage hair loss and scalp breakouts, so don't push it off any longer. One product that can seriously transform your hair? The dpHUE ACV Hair Masque. It's infused with apple cider vinegar, sunflower seed extract, and fatty acid-rich rosehip, avocado, and coconut oils to deeply condition and repair the most damaged areas of the hair's surface.
Brighten your under-eyes
They say the eyes are the windows to the soul, so why wouldn't you want it to be bright and healthy? The Murad® Renewing Eye Cream is a multi-active treatment that firms, brightens, and hydrates the eye area to minimize the appearance of aging, dark circles, and puffiness. Just apply a small amount every day after cleansing for more vibrant under-eyes.
Hydrate your neck
Don't neglect your neck – it's one of the first areas to show signs of aging. Our favorite moisturizer? The tarte™ Rainforest of the Sea™ drink of H2O hydrating boost. The vegan gel moisturizer refreshes parched skin and improves elasticity with electrolyte-packed hydration.
Pamper your nails 
You can skip your next trip to the salon and get healthy, strong nails simply with the WAY OF WILL Strengthening Nail & Cuticle Serum. It's specially designed with antioxidants, emollient-rich meadowfoam, argan oil, and vitamin E to moisturize nails while protecting the cuticles against dryness and damage.
Shoulders, knees, and then some
Nourishing every inch of your skin is made easy when you have a quality, lightweight body lotion that you can use every day. We love the Lavido Aromatic Body Lotion in Mandarin, Orange & Bergamot because it works for all skin types, and the essential oils leave the skin buttery soft.
Relieve your feet
You probably don't think much about foot care considering how much your feet endure on a daily basis. Stop dryness and cracked skin by using a daily foot cream. Our go-to is the AHAVA Dermud Intensive Foot Cream because it uses mineral-rich Dead Sea mud to relieve painfully dry, rough skin while locking in moisture to help protect and heal the skin.
Your mind matters
They don't call it beauty sleep for no reason. Lack of sleep affects the moisture levels in your skin, which often leads to a dull, less youthful-looking complexion. To make sure you're getting your eight hours every night, spritz a bit of this works® deep sleep™ pillow spray on your pillow before bed. The natural blend of lavender, vetiver, and chamomile calm both the mind and body to help you fall asleep faster and wake up feeling refreshed.
xx, The FabFitFun Team
Psst! Have you signed up for FabFitFun yet? Don't miss out on $200+ in amazing beauty, fitness, fashion, and lifestyle products, access to exclusive fitness and cooking content on FabFitFunTV, members-only sales, and more. Join today!
To get the most out of your box products, make sure to check out the Insider page.