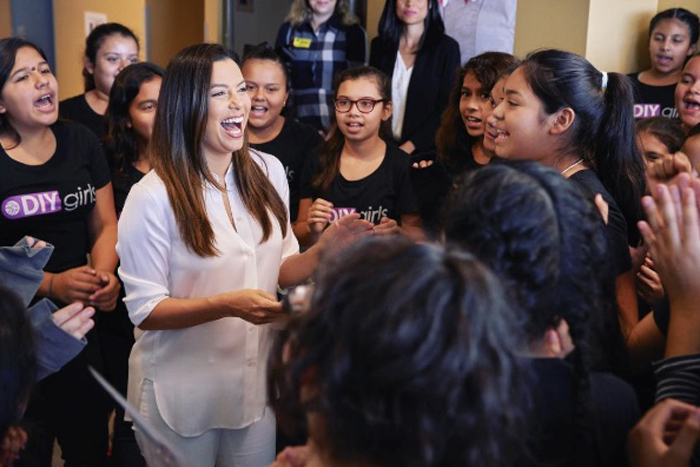 Feature Image by @evalongoriafoundation
You've seen your favorite celebs glammed up on red carpets and play larger-than-life characters on the big screen. But did you know that some of these celebs also work to make the world a better place?
Whether they're fighting to break the glass ceiling, leveling the playing field for underrepresented communities, or giving back to those in need, ahead are 10 celebs who are giving back in their own unique way.
View this post on Instagram
Ian Somerhalder
Somerhalder founded the Ian Somerhalder Foundation (ISF) in late 2010 to educate and collaborate with people and projects to positively impact the environment. Today, he works with his wife Nikki Reed to empower the youth and provide grants to conserve natural resources through various initiatives including a plastic cleanup program, free spay and neuter clinics, and more.
---
View this post on Instagram
Mariska Hargitay
Inspired by her role as Olivia Benson on Law & Order: Special Victims' Unit, Hargitay founded Joyful Heart Foundation to redefine how society views and reacts to sexual assault, domestic abuse, and child abuse victims. The foundation focuses on healing, education, and advocacy while working toward legal reformation in support of survivors.
---
View this post on Instagram
Emma Watson
Built on the premise that society can't fix its problems with only half of society doing the work, HeforShe invites men to stand alongside women in the push for gender equality. Watson introduced the initiative in 2014 at the United Nations Headquarters in New York with an impassioned speech. To get involved, you can sign up for HeforShe actions kits, participate in the social media campaign, or host an event or commitment drive.
---
View this post on Instagram
Christina Applegate
When Applegate was diagnosed with breast cancer in 2008, she knew she had to do something to help other women. Right Action for Women (RAW) was founded to provide women at high risk of breast cancer with education and resources to cover the costs of breast screenings.
---
View this post on Instagram
Hugh Jackman
After meeting Dukale, a young Ethiopian coffee farmer who was struggling to help his family out of poverty, Jackman launched The Laughing Man Coffee. The foundation's mission is to support programs that promote the health, growth, and success of coffee farmers and provide a marketplace for farmers in developing countries to sell their goods to American consumers. In 2018, The Laughing Man Foundation partnered with Fair Trade USA to invest in 100 housing projects and 40 college scholarships in Huila, Colombia.
---
View this post on Instagram
Bette Midler
Midler founded the New York Restoration Project (NYRP) to build a safer, healthier, and happier city by partnering with local communities, public agencies, and the private sector to acquire, create, maintain, and program public open spaces. Under her leadership, NYRP rescues parks and countless gardens in underserved areas throughout the city that never sleeps.
---
View this post on Instagram
Eva Longoria
When the Desperate Housewives star learned that Latinas made up 17 percent of U.S. women and 27 percent lived below the poverty line, she knew something had to change. Thus, the Eva Longoria Foundation was born. It's currently changing the narrative around Latinas by providing them with resources like parent engagement, mentorship, STEM education, microloans, and business training to pursue higher education and entrepreneurship.
---
View this post on Instagram
Matt Damon
Powered by the merging of two existing organizations (WaterPartners, co-founded by Gary White, and H2O Africa, co-founded by Damon) Water.org is on a mission to break the barriers between people and safe water. Over the past 25 years, the foundation has provided 17 million people with safe water and sanitation through small, affordable loans.
---
View this post on Instagram
Matthew McConaughey
Led by power couple Matthew and Camila McConaughey, The Just Keep Livin Foundation is focused on empowering high school students in underserved areas to lead active lives and make healthy choices through fitness and wellness programs. McConaughey was inspired to start the foundation after the passing of his father and coined the name after his pop's saying, "just keep livin'."
---
View this post on Instagram
Will Smith and Jada Pinkett-Smith
The Smiths are raising up the next generation of entertainment leaders through The Will & Jada Smith Family Foundation. Their foundation focuses on mentoring young people from underserved communities interested in working both behind and in front of the camera. Youth who participate get to learn about the entertainment business, the variety of careers offered, and the avenues toward getting there. After a year in the network, participants are able to apply to a fellowship where they can gain hands-on experience and education in the entertainment field.
xx, The FabFitFun Team