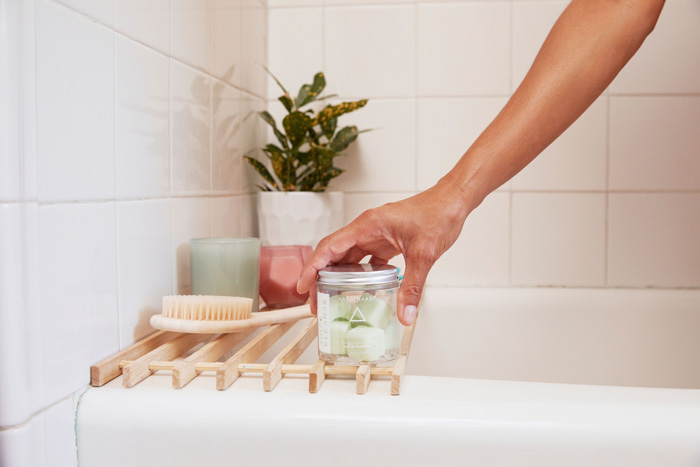 FALL 2019 BOX PARTNER
Shower and bath products are having a major moment in the world of self-care. Bath bombs have gone mainstream, exfoliating tools are everywhere, and pretty much every woman we know is trying to figure out exactly how often to wash her hair.
So we spoke with board-certified dermatologists Dr. Fayne Frey and Dr. Debra Jaliman to find out the key steps to a great shower routine.
Keep showers brief and warm
As relaxing as a hot, long shower might be, Dr. Frey recommends keeping your routine showers fairly brief. Dr. Jaliman even suggests the everyday shower should last only around five minutes. Both dermatologists advise settling for a lukewarm water temperature as hot water can strip the skin of more natural oils.
The right way to shave
Dr. Frey explains that so much of personal care varies by culture with little science or medical research behind it. However, if you're on the quest for hair-free legs, Dr. Frey says a sharp and clean razor moving with the grain of the hair on lubricated skin will be your best bet. And shaving cream does actually serve a purpose, says Dr. Jaliman. If you find that even great shaving hygiene still leaves you with chronic ingrown hairs or inflammation, a trip to your dermatologist can help you find the remedy.
Exfoliating is a choice
Without much research around showering, there isn't a clear cut answer about whether or not exfoliating is actually good for us, says Dr. Frey. Even dermatologists vary in their recommendations. Dr. Jaliman is a fan of exfoliation while Dr. Frey says it just depends on the person. As for us? We like to exfoliate our body with the Harper + Ari Exfoliating Sugar Cubes in Juice Cleanse for its moisturizing properties and heavenly scent.
Moisturizing is a must
After showering and exfoliating, both Dr. Frey and Dr. Jaliman emphasize the importance of replenishing moisture and building up the barrier on your skin. This added moisture helps make up for the skin layer lost in exfoliation and the oils lost during the shower itself. For a light moisturizer with a subtle yet fresh scent, opt for the Human + Kind Body Soufflé.
Focus on ingredients, not marketing
As shiny and compelling as the label claims may be, it's the ingredients that are most important. Dr. Frey says soap-free and fragrance-free cleansers tend to be gentlest on the skin, so make sure to do your research and read the ingredients list thoroughly.
Choose a shower routine you love
Skin and hair health is not won or lost in the shower, according to Dr. Frey. A regular exercise routine and a diet full of fruits, vegetables, complex carbohydrates, and lean protein will build glowy skin and shiny hair. No matter what routine you choose, do it because it makes you feel lovely. You are beautiful as you are now regardless of what you use or what you do, says Dr. Frey.
xx, The FabFitFun Team
Psst! Have you signed up for FabFitFun yet? Don't miss out on $200+ in amazing beauty, fitness, fashion, and lifestyle products, access to exclusive fitness and cooking content on FabFitFunTV, members-only sales, and more. Use code FALLVIBES at checkout for 10% off your first box. #yourewelcome
To get the most out of your box products, make sure to check out the Insider page.