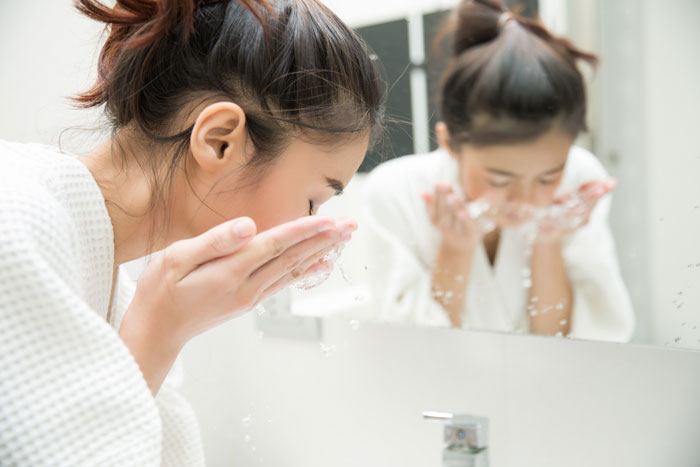 FALL 2018 BOX PARTNER
Every skin care junkie knows that good skin is not only dependent on the products you use but also the order in which you apply each product onto your skin. While no two skin care routines are the same, the general rule of thumb is to go from lightest to heaviest and from lowest viscosity to highest viscosity.
From oils to creams and toners to SPF, we break down the recommended order below.
Cleanser
It sounds obvious, but you should cleanse your face first in order to break down any makeup, dirt, and impurities that collected onto the skin throughout the day. We've been obsessed with the Grown-Alchemist Hydra-Restore Cream Cleanser: Olive Leaf & Plantago Extract as it's formulated to cleanse and condition without dehydrating or irritating the skin.
Exfoliate
Next up is exfoliation, which will slough away any dead skin cells and reveal fresh skin. The Grown Alchemist Polishing Facial Exfoliant: Pink Grapefruit & Glucomannan Extract is a gentle exfoliant that polishes away dry skin and dead skin cells while leaving skin radiant and smooth.
Toner/Essence
After you've finished exfoliating, use a toner or essence to restore the skin's pH levels and hydrate the skin. Don't forget to let the toner/essence fully soak in before you move on to the next step.
Serums
Whether you use a serum to target brown spots or brighten the skin, you should lightly tap the serum into your skin. Don't forget to apply the serum down to your neck as well.
Oil/Moisturizer
Now we move on to the heavier products aka your oils and moisturizers. This will help seal in all the goodness and give your skin that last layer of moisture. We recommend the Grown Alchemist Hydra-Repair Day Cream: Camellia, Geranium Blossom because it's a nourishing yet non-greasy formula that will protect the skin against free radicals.
Eye Cream
Gently pat eye cream under and around your eyes and along the brow bone with your ring finger until the product is fully absorbed. We love the FARMACY Dew It All Total Eye Cream because it minimizes visible signs of aging, stress, and fatigue.
Sunscreen
Last but not least, SPF! Protect your skin and all the hard work you put into your skin care routine by sealing it in with an SPF of 30 or higher.
As always, consult your dermatologist if you have any questions about your skin care routine.
xx, The FabFitFun Team
Psst! Have you signed up for FabFitFun yet? Don't miss out on $200+ in amazing beauty, fitness, fashion, and lifestyle products, access to exclusive fitness and cooking content on FabFitFunTV, members-only sales, and more. Join today!
To get the most out of your box products, make sure to check out the Insider page.