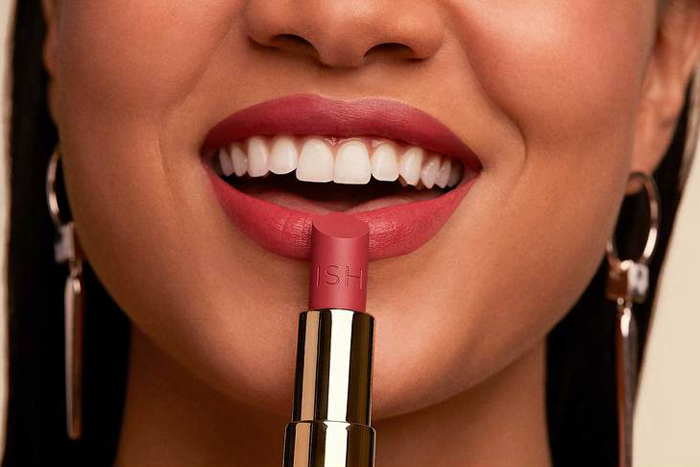 Feature Image by ISH
FALL 2018 BOX PARTNER
Whether you use a ruby red lipstick or a shiny smooth gloss, we all want luscious, kissable lips. So we asked celebrity makeup artist Amy Nadine for tips on how to get the most out of ISH Cosmetics' latest lip products, which includes Hydra Matte Lipstick, Hydra Gloss, Lip Line, and the Cheek and Lip Tint.
Read on to learn how to achieve the perfect pout for your fall makeup looks.
How do you find the perfect lipstick shade for your skin tone?
Look at the underside of your wrist. If you have pink undertones, look for lip shades that are cooler like a blue red or pink nude. If you have olive undertones, look for shades that are warmer, such as an orange-red or peach nude, and if you have neutral undertones, you can wear both!
How exactly do you layer lip liner, matte lipstick, and lip gloss?
Start by lining the perimeter of the lip area then fill in the entire lip with the liner — this is your insurance policy that you won't end up totally bare at the end of the night. Then sweep the lipstick across the upper and lower lips back and forth a couple times to really load it on. Finish with a swipe of gloss either just in the center of the bottom lip for fullness or the entire area for a more polished look.
Any tips on how to apply cheek tint for first-timers?
You can use your fingers or a blush brush to apply it wherever you prefer (high corners on a round face, apples on a longer face, or along the cheekbones for a more contoured look). Just swirl your finger or the brush against the surface of the tint then swirl and tap onto the designated area and watch it soak in for a gorgeous inner flush.
Can you spill your best makeup hacks?
I love using a burgundy lip liner to line eyes because it looks gorgeous with any eye color. A warm lip tint is also gorgeous on the eyelids for a natural sheen of color. A lip liner is a great way to keep a lip gloss from bleeding or feathering if you have lip lines.
Do you have any go-to lip tips or tricks? Weigh in on the comments below!
xx, The FabFitFun Team
Psst! Have you signed up for FabFitFun yet? Don't miss out on $200+ in amazing beauty, fitness, fashion, and lifestyle products, access to exclusive fitness and cooking content on FabFitFunTV, members-only sales, and more. Join today!
To get the most out of your box products, make sure to check out the Insider page.