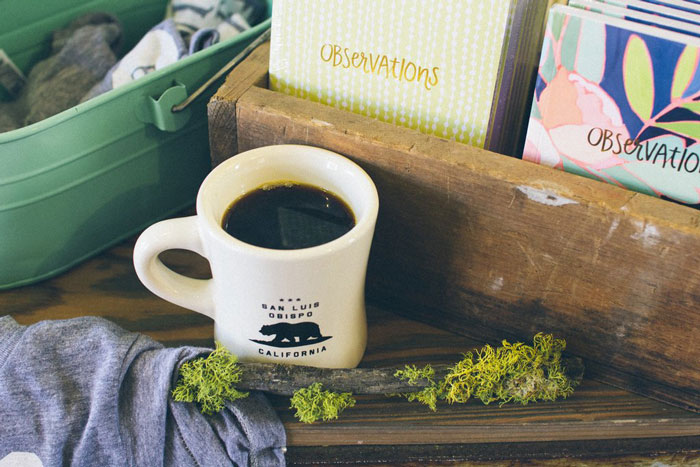 Feature Image by HoneyCo Coffee Roasters
Everyone might be headed to the mall the day after Thanksgiving, but we're excited to support local and small businesses on Small Business Saturday — especially because small businesses offer more unique, niche items you can feel good about purchasing.
So to get ready for Small Business Saturday on November 25, here are some awesome small companies to shop from.
For the guy in your life
Kenny Flowers
This small business started in a grandmother's spare room where the designer created Hawaiian shirts that you wouldn't typically find in dad's closet. The sleek fit and trendy design make it the perfect gift for your man to sport on his tropical winter getaway.
Broquet
Looking for pre-made gift baskets geared towards men? With five categories to choose from — ranging from food to grooming — the Broquet box makes shopping for the men in your life easy peasy.
For the fitness fanatic
Kore Kollective
This sexy fitness line seamlessly transitions from your sweat sesh to the street. Each design is made to make you feel stylish, sexy, and strong all at the same time, so make your way over to happy hour after your barre class (no change of clothes necessary!).
YogaPaws
Ah, yogis — shopping for them is easier said than done. Luckily, YogaPaws has you and your friend covered with gloves specially made to sub your traditional yoga mat. Simply slip your hands and feets into the gloves to get in a quick yoga sesh on-the-go.
For the foodie
Williams Honey Farm
Everyone loves to cook with honey, but we tend to forget that we need bees to keep the honey coming. This small business not only produces some of the sweetest honey, but it also educates and promotes the survival of the honey bee. It's a win-win when your money is going to a good cause and a delicious dish.
HoneyCo Coffee Roasters
For the coffee snobs in your life, this adorable mom and pop shop is creating a name for themselves. What began in a small town on the central coast of California, a married couple brought their dreams to life by producing their own coffee beans. Plus, the coffee is so delicious!
For the skin care junkie
Veronica Skincare
This Malibu-based business is one you want to keep on your radar. The founder has done her fair share of research with some of the top dermatologists and plastic surgeons to create products that help with anti-aging and acne.
Etta & Billie
We tend to hear the phrase "farm to table" in the restaurant industry, but have you heard it in the world of skin care? This small San Francisco-based company finds delicious farm produce and puts it into their soaps and skin care products — we recommend the cold brew coffee hand scrub!
For the wine lover
Hill Family Estate Wine
Drink fine wine and support a small business while you're at it! Hill Family Estate is one to shop from, not only for their wines but also because of the story behind it. This estate began with the family's desire to share their love for crafting wine together (talk about wine being "made with love!").
Point Reyes Cheese
Pointe Reyes Cheese is your one-stop shop for some of the creamiest cheese. This small dairy farm has various cheeses that would make for a delicious charcuterie board and pair perfectly with a glass (or two) of wine.
For the traveler
Flight 001
This small business has everything a traveler could ever ask for. From comfortable sleep masks to luxury travels kits, you'll find products you knew you couldn't live without!
Hyperlite Mountain Gear
Need a gift for the mountain climbing aficionado in your life? Hyperlite Mountain Gear isn't about the bells and whistles, but more about stripped down gear that you can carry wherever you go. This is gear for the minimalist mountaineer who is looking to downsize while they climb and camp the next peak.
xx, The FabFitFun Team