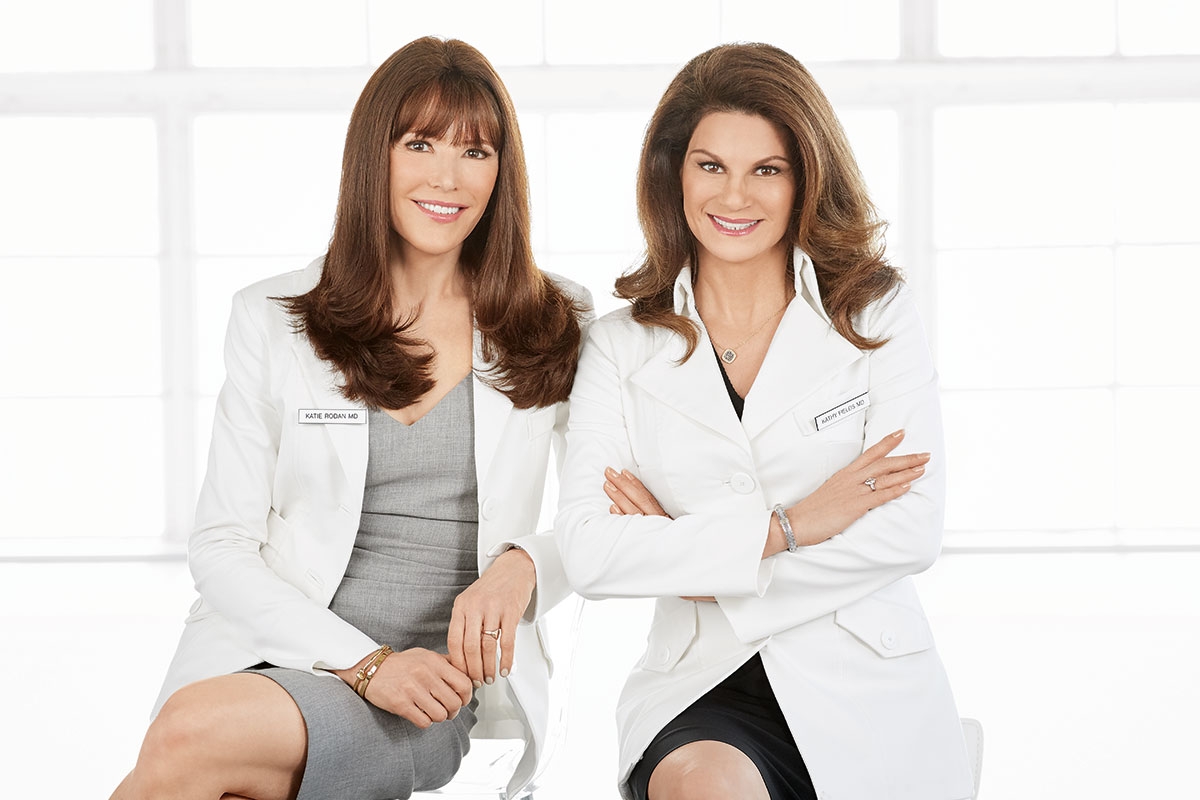 This month's #WomenWeAdmire column is extra special, as we're highlighting not one, but two insanely amazing women. And yes, it just so happens to be the gorgeous (and talented!) dermatologists and Co-Founders of prestige skincare brand that we all know and love — Rodan + Fields.
While Dr. Katie Rodan and Dr. Kathy Fields are super busy with their beauty empire, we managed to sit down with them for a few minutes and chat about everything from career advice to favorite workout classes and healthy eating spots in San Francisco. Check out the below for some major life inspiration and motivation:
Why did you decide to go the direct-to-consumer route with Rodan + Fields?
[It] was initially a department store brand. We recognized the retail landscape was evolving and department stores were losing traffic. The department stores also did not offer the one-on-one communication we were hoping for.  We saw social media on the rise and recognized that new technology platforms could play a role in our distribution model moving forward.   
We relaunched Rodan + Fields in 2008 as a social commerce/community commerce brand. We felt that offering an entrepreneurial opportunity to women was a great fit with our vision. Who better than your best friend, or someone who has tried the products, to recommend them to you.
What are some challenges you faced along the way?
There have been too many to count, but we've been able to turn every challenge into a positive.  Because we decided to distribute our products in a channel we did not know, there was fear of the unknown. We had to take the risk…we had grit, and even after a lot of 'no's,' we kept on going!
What do you do when you don't see eye to eye on an idea?
Partnership is a shared vision. It's about cooperation and collaboration. If we have a difference, we have a conversation and work it out.
What has been the most rewarding part of your career?
We see how products can change people's lives. And we've seen how our community commerce model empowers women to become entrepreneurs. It is exciting to watch their personal growth and confidence that comes from acquiring skills; from public speaking to networking using social media. It is so gratifying to watch these women in action building their own businesses, paying it forward through their philanthropic activities; many have achieved a level of success they never would have imagined.
What does a normal workday look like for you?
There is nothing normal about our work day! Every day is different – from patient care to business meetings to teaching, philanthropy and sharing time with family – our days are constantly changing.
How do you maintain a healthy work-life balance?
We are intimately involved in the brand, however, we do not run the day-to-day management and therefore can see patients, teach, and maintain a balance. We have a fantastic team that runs the business day-to-day, including our CEO, Diane Dietz.
What is your favorite product from the line?
Rodan + Fields REVERSE and Rodan + Fields AMP MD.
If you forgot your skincare bag when traveling, what would you seek out first?
Sunscreen!
At-home skincare secrets you can share?
What you do every day makes a bigger difference in how you age than any treatments you might do intermittently at the dermatologist office.  It's key to treat whatever your primary skincare issue is with the best products containing the right active ingredients designed to resolve that issue. This will yield results!
How do you keep your skin in tip-top shape while traveling so much?
We don't stop our daily routine when we travel. In addition, we both rely on Rodan + Fields AMP MD and a moisturizer when we're away from home.
How do you shake off a chaotic work day?
Dr. Rodan: Sitting down with my husband and having a great meal and sometimes a glass of wine.
Dr. Fields: Being with my family!
What is your favorite iPhone app?
Dr. Rodan: Lifecake application to see pictures of my granddaughter and I am loving Meditation applications such as Stop, Breathe & Think and Headspace.
Dr. Fields: Note key section — I update my to-do list non-stop.
What's your guilty vice?
Dr. Rodan: My "dirty little secret" is that I love being outdoors which mean lot's of sun exposure. But I cover up so much I am often unrecognizable.
Dr. Fields? Just be mindful.
What is the biggest skincare myth you've ever heard?
Sometimes people wonder if they are doing something wrong to cause their break outs.  They blame themselves and think, "…if I could change a habit I could stop my break outs".  That is not the case!  That's a myth. By treating and preventing break outs you'll get clear skin. So never blame yourself for acne.
Do you have a favorite work out class in SF?
Dr. Rodan: Soul Cycle.
Dr. Fields: I do the Focus T25 Workout by Shaun T at home.
Favorite healthy spot in San Francisco?
Dr. Rodan: The Plant.
Dr. Fields: Greens Restaurant.
Any predictions as to what's next to come in the skincare world?
Stay tuned! We have some exciting projects in the pipelines.
How does it feel to be successful women in business in 2016?
It makes us want to do more! To help more people become successful entrepreneurs and provide them with business skill sets to become more satisfied with their lives. We are motivated to turn our personal success into the greater good for people around us.
What is your most important piece career advice?
Dr. Rodan: My dad said, "Be your own Boss and make your own money," and "Treat people with kindness and compassion, because what you give is what you get."
Dr. Fields: "Do good and it will come back to you"
Any additional career advice you'd like to share?
You need a safety net to take a risk; some sort of support team whether it's a partner or a family member. Expect ups and downs if you are pursuing an entrepreneurial path. If you believe in what you are doing, keep at it, and learn and evolve with each step along the way.
xx, The FabFitFun Team