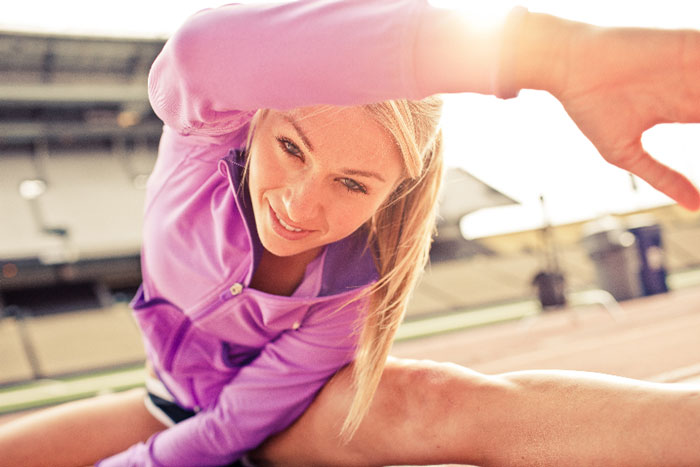 SPRING 2018 FABFITFUNTV PARTNER
Are you ready for one of the shortest yet most intense workouts you've ever done? Yep, in just 15 minutes (which is probably less time than your daily coffee run), you could be dripping in sweat right in your own living room — all thanks to Elyse Miller of Fit Elyse.
The mother, wife, fitness trainer, sports model, and television host knows the importance of making health and fitness a priority. After having kids, the former TV news reporter and weather anchor felt compelled to get back into training to help other mamas get in shape and feel like themselves again. She now trains clients online, through social media, and in her garage gym and has created a series of online videos to give you an incredible burn on your own schedule.
Check out FabFitFunTV now to try out Miller's workouts like Mixed Bag Cardio, Plyos are A HIIT, and Booty Blasters (just to name a few), and check out what the fitness guru shared about her method and fitness journey.
How did you first discover your love for fitness and health?
Since I was a kid, I've been involved in athletics — gymnastics, soccer, track, and cheerleading. I've never been the type of person who could sit still. I'm a goer and a doer. Any time someone would ask me to join a team with them, I jumped at the chance. My very first job was at a gym. I gave tours to new members and showed them how to use the equipment. I quickly fell in love with working out — it was so fulfilling to see people reach their goals, shape their bodies, and change their lives.
What makes your workout method unique?
Since having my first child four and a half years ago, my workout style has completely changed, and I'm actually in better shape mentally and physically now after two kids. My style is unique because it's fast and intense. There's no such thing as a break in my workouts. I train myself and clients with the 15 to 30-minute approach. When you push yourself to the max for that amount of time, you'll see results. I can get more done during a 15 to 30-minute workout than many people can in an hour. We move fast, we get done fast. I do high intervals and multi-muscle movements so we can get more done in less time.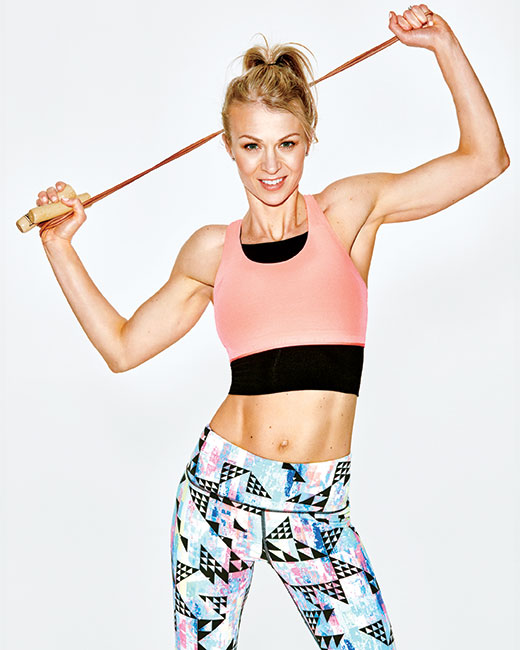 What are people most surprised about when they first try your workout?
How much they sweat. People are always shocked at how tired and worked their entire body is in such a short amount of time.
What should a first-timer be prepared for when trying your workout?
The workouts are intense, so be ready to push yourself, get sweaty, and have some fun. If an exercise seems to hard for you, take it slow and modify. You're not competing against anyone, so just do your best. You're going to have to get a little uncomfortable to see results. Each day, try to push a little harder.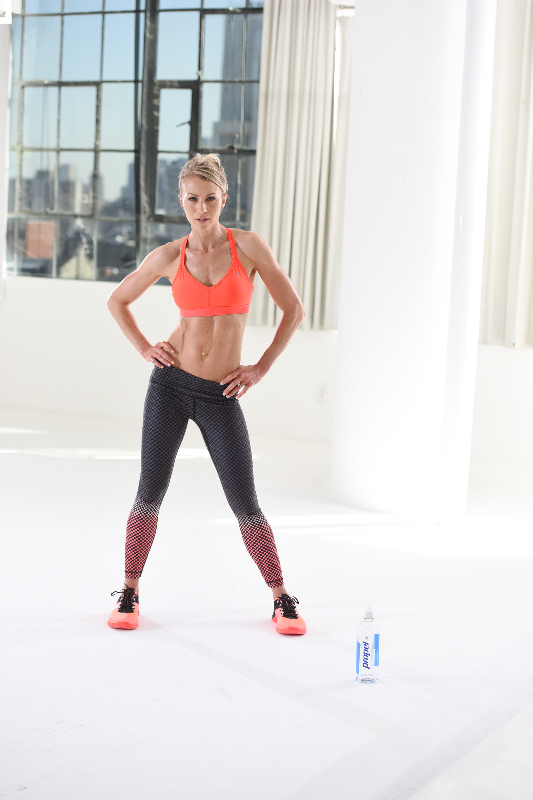 What's your favorite part about helping people get into shape?
Watching their entire life improve. As people realize all that they are really capable of, there's a new confidence that reaches into all areas of their life and the lives of their family members.
How do you motivate yourself to work out when you're not in the mood?
Working out is non-negotiable — it's like brushing my teeth, it's just part of my day. Yes, there are some days that I don't feel as motivated, but I just start anyway. It's so helpful that my workouts are short. If I can just get started, I'll be done before I know it. I highly recommend working out first thing in the morning before your mind can talk you out of it and before the demands of the day steal away your time and motivation. Just start!
3-5 reasons why FFFTV members should try your workout:
1. You'll no longer have the excuse that you don't have time to work out. Daily Double videos are between six to eight minutes long. You can do it anywhere without any equipment.
2. You'll learn just how strong you are. These videos are tough and intense, but also short so you can do it! I encourage everyone to try the moves, and you'll get better and stronger each time.
3. It's fun. There are so many different daily combinations you can try. Make the workout different each day by mixing and matching any two videos or even doubling up on one video. This will help beat the boredom that can often come with working out and will also challenge your body in new ways each day.
xx, The FabFitFun Team