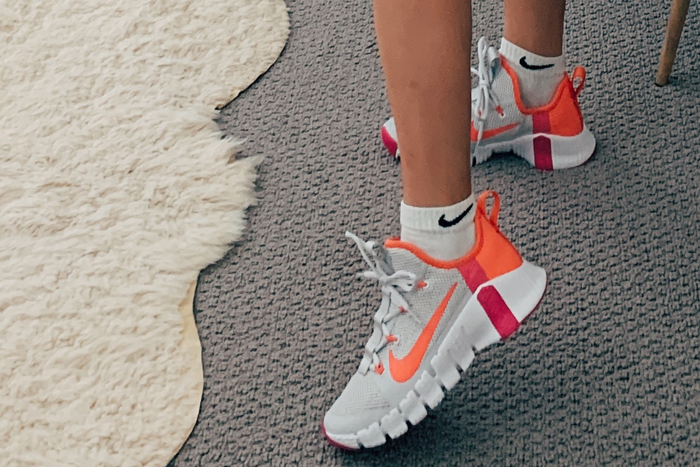 As we've all been spending more time indoors, you might be thinking about bringing your workouts inside, especially with fall and winter looming on the horizon.
Aside from investing in cute workout clothes to help keep you motivated, working from home also means upping your sneaker game. While working out barefoot is OK for yoga or Pilates, you should consider wearing shoes that provides comfort, support, and cooling benefits for HIIT or bodyweight workouts.
Ahead, we rounded up up the best shoes for working out indoors, whether you're dancing away through a virtual Zumba class or running full speed on the treadmill.
Perfect for HIIT workouts, these stylish shoes keep the sole flat and the heel wide, allowing you to crush those workouts without any hiccups.
---
These podiatrist-approved shoes won't disappoint, as they are comfortable and supportive. They're great to wear for a yoga flow or even a brisk 20-minute walk.
---
Strains and workout injuries are now a thing of the past thanks to this training shoe, which supports your knees, legs, ankles, and feet with a sturdy upper, sides, and sole.
---
While these lightweight sneakers are great for intense pushups and planks, they are also made from sustainable materials, making them great for both your workouts and the planet.
---
Great for intense HIIT workouts, crunches, or lighter walks on the treadmill, these training shoes bring durability and flexibility to your feet, allowing you to perform any kind of exercise with ease.
---
You won't have to worry about any slips or falls while wearing these training shoes, as they support your body (thanks to a stabilizing midsole) through every step or stretch.
---
These training shoes provide both durable sides and a greater grip, making them ideal for indoor cycling or Pilates moves. However, let's be honest: even when you are off-duty from working out, these sneaks can also pep up your athleisure looks too.
---
Tired of overheated feet post-workout? Thankfully, these lightweight sneakers keep things cool with a breathable mesh upper (and sturdy sole) as you go through challenging twists or jump rope reps.
---
Great for lifting weights, lunges, or doing squats in the house, trust that this platform sneaker provides enough cushioning and lift to keep your feet shielded from injury.
---
Be sure to whip out these colorful sneaks for your next virtual Zumba class, as they feature a flat sole (plus supportive padding!) to keep your feet comfy and secure through every bounce or jump.
xx, The FabFitFun Team