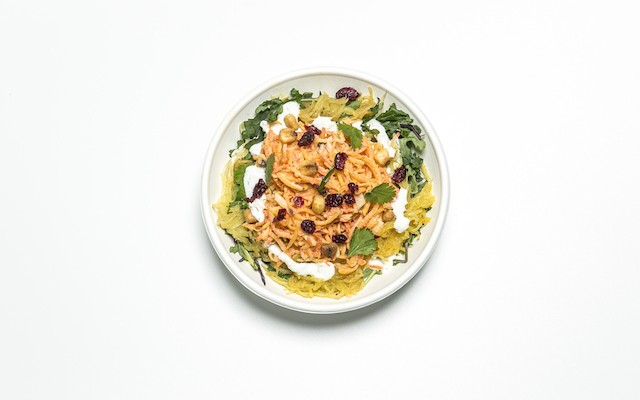 When it comes to roasted veggies, we cannot get enough. Something about caramelized carrots and butternut squash gives us cravings we're not even mad about. And when a plethora of spices and flavors meet some of our favorite vegetables, we get real giddy.
Luckily for us, the chef over at Two Forks in NYC gave us a recipe that blesses the taste buds and makes you come back for more — a roasted squash bowl that's loaded with flavor and nutrients. It's so good you'll become hooked like we are!
Squash Bowl with Roasted Harissa Carrots
Ingredients:
Roasted Carrots
4 large carrots
Salt to taste
Black Pepper to taste
Harissa spice to taste
1 sprig thyme
1 lemon
1 tablespoon olive oil
Organic Spaghetti Squash
2 organic spaghetti squash
Thyme 1 sprig
Rosemary 2 sprigs
Salt to taste
Black pepper to taste
Harissa spice to taste
1 tablespooon Red wine vinegar
Olive oil
Tzatziki sauce
667 grams Greek yogurt
233 grams cucumber
67 grams red onion
1 garlic clove
3 grams of dill
18 grams lemon juice
13 grams olive oil
Butternut Squash Slaw
1 butternut squash
1/2 cup carrot
1 green apple
1/4 cup dried cranberries
410 grams goat cheese
365 grams buttermilk
72 grams maple syrup
45 grams olive oil
22 grams apple cider vinegar
Lemon to taste
Salt to taste
Pepper to taste
Directions:
For roasted carrots
1. Peel and cut carrots into ½ moons, then toss with olive oil, spices and thyme. Roast in preheated oven at 450 degrees until browned and cooked through. Finish with lemon.
For spaghetti squash
1.Cut squash in half and remove seeds, and season squash with everything but vinegar.
2. Roast at 400 degrees, flesh side down, for 35 minutes.
3. Shred squash using two forks, and season with more olive oil and red wine vinegar to taste.
For tzatziki sauce
1. Blend cucumber, onion, garlic and dill.
2. Whisk into yogurt, with lemon juice and olive oil.
For butternut squash slaw
1. Bring goat cheese to room temperature.
2. Shred squash and carrots through an attachment on robot coupe. Julienne apples and chop dried cranberries, toss together like a salad.
3. Whisk goat cheese, buttermilk, maple syrup, olive oil, apple cider vinegar, lemon and salt and pepper. Pour dressing over squash mixture.
Assemble
Place squash into bowl and top with roasted carrots, slaw, tzatziki sauce, and fresh-picked herbs (basil, chive, parsley, cilantro) and crushed corn nuts.
Recipe courtesy of Two Forks
xx, The FabFitFun Team