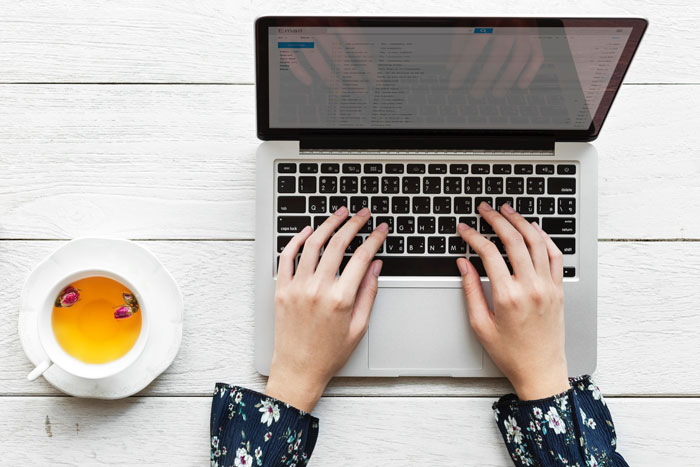 Feature Image by rawpixel.com
LinkedIn has become the go-to source for job recruiters looking to hire their next candidate. And like other social media platforms, what you post and share on LinkedIn matters. The difference? LinkedIn has the ability to land you a new career opportunity, which is why it's so important to make sure your profile stands out.
So we went ahead and asked job recruiters what they look for on LinkedIn. Check out their tips below.
An up-to-date job status
"A positive standout on LinkedIn is when people are in a job transition and fully disclose their status. They can state that on their page or by using the LinkedIn feature 'open to new opportunities.' If a candidate is not proactive or clear and a profile looks like a candidate is gainfully employed, recruiters may overlook someone who is a great fit." — Allison Chappelle, Executive Manager and Recruiter at Patina Solutions
Posts that align with your career expertise
"I turn to LinkedIn because there's only one story shown there, and it's your true one. So right away, I know if the job aligns with the applicant. I can see what they post to know if they're an expert on the topic they applied for." — Alexander Lowry, Executive Director of the M.S. in Financial Analysis at Gordon College
Interactions with your LinkedIn network
"I'm intrigued by how candidates interact with other people on LinkedIn, especially relevant thought leaders. I think this shows that they have a genuine interest in their industry and that they're proactive in expanding their professional network." — Lexie Newnham, Talent Manager at Expert Market
Location and industry
"The most important things for me are the person's location and industry. Location is obvious; industry is not. Let's say there is an accountant working for a marketing firm. If she has listed her industry as 'Marketing and Advertising,' I won't find her and she may be the person I needed most." — Bruce Hurwitz, Executive Recruiter and Career Counselor at Hurwitz Strategic Staffing, Ltd.
Recommendations
"They're gold to me. Word of mouth is huge. We call it reputation management when we talk about brands, but the same applies to individuals." — Gretchen Skalka, Senior Manager at TBC Corporation
Your résumé and LinkedIn profile match
"First, I'm looking to see if the LinkedIn profile matches the résumé. Sometimes, there will be jobs listed on one but not the other, or perhaps dates are different." — Amy Esry, Human Resources Consultant at Hausmann-Johnson Insurance
Giving the specifics
"When recruiters search on LinkedIn, they are looking for real, useful information. Instead of simply writing your previous jobs and titles, give some background and list your responsibilities and accomplishments in these positions. Likewise, don't just give an email or phone number. Write the best ways to contact you and expected reply times." — Nate Masterson, Marketing Manager at Maple Holistics
A concise summary
"Recruiters are people too. Show us that you're a person and have a little fun with it while being professional. There's a way to do both! Be sure to demonstrate your value in both your headline and summary and also be clear about what it is you do [and can] offer. Make it really easy for recruiters to contact you by including your phone number and email address in your summary. I like to think of the summary as your LinkedIn pitch." — Amanda Gulino, Founder of A Better Monday
A complete profile
"Some people clearly spend very little time just filling out the basics of their bio. A thoughtful effort says a great deal about the candidate." John Crossman, CEO of Crossman & Company
Professional appearance in photos
"It might sound small, but a well-shot photo goes a long way. I'd like to see the candidate's face, and what kind of effort they put into that says something about them. They should be smiling and appear approachable. Is this someone I'd want to work with?" — Caroline Blitz, People Operations Manager and Technical Recruiter at Aaptiv
Avoiding typos/attention to detail
"Make sure you don't have any spelling or grammar mistakes. Have someone else read your profile!" — Joshua Goldstein, Co-Founder of Underdog.io
Technical skills
"If there's a certain type of skill set that's necessary for the job, those are the keywords I'm using to search for candidates on LinkedIn. In addition to skill sets, it's important to flesh out your experience under each job by using industry keywords and quantifying your experience." — Angela Mayhew, Senior Recruiter at FabFitFun
xx, The FabFitFun Team