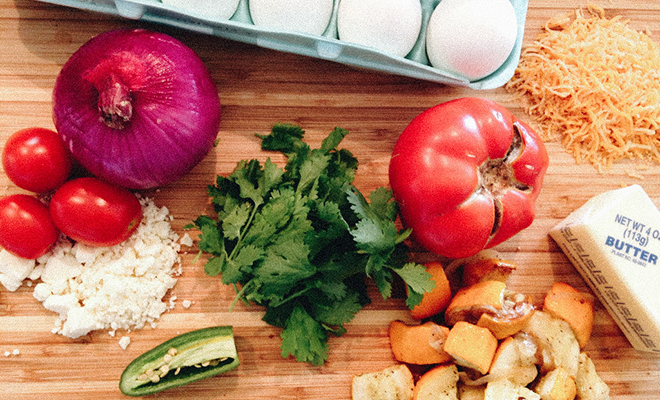 goodinthesimple.com
The last thing you want to do after a long day is head to the grocery store. Especially if you've ever stared blankly in front of an open fridge wondering what you're going to make for dinner. Don't worry, we've all been there.
Lucky for you, we found 10 delicious meals that can be made with items you already have on-hand in your kitchen. From frittatas to the classic mac 'n' cheese, whatever you're craving can be made right now.
Purge the Fridge Frittata
Pretty much anything you have in your fridge will pair amazing with eggs. If you happen to have leftover veggies, an onion, and a jar of unopened jalapeños, you're in for a savory meal. You can have this for breakfast, lunch, and/or dinner.
---
Mac 'n' Cheese
You know you've got some extra noodles, milk, flour, and cheese lying around somewhere. Well, that's all you need to make some delicious mac 'n' cheese. If you can scrounge up some ham and scallions, even better. But this classic dish tastes delicious on its own, too!
---
Taco Soup
Hamburger meat and a few cans of beans, corn, and tomatoes — you've got a Mexican dish for the books! Feel free to add a side of tortilla chips and tequila. Because you've probably got some of that in your pantry, too.
---
Loaded Baked Potatoes
Potatoes go with anything. Seriously….eggs, bacon, ham, beef, whatever you have. So, get those potatoes nice and soft with a little time in the oven and start stuffin' them with your favorite ingredients!
---
Oatmeal Cookie Pancakes
This gourmet-looking breakfast seems as though it'd be complicated to make, but it's actually really simple. The main items include flour, oats, milk, raisins, and baking powder. Add in a few other spices, and you'll have one delicious stack of pancakes ready in no time.
---
Fried Rice With Ham & Eggs
This recipe only requires four items — rice, ham, scallions, and eggs. Yep, that's it. So, what are you waiting for? Raid that fridge, and get to cooking!
---
Chili
If you've got 25 minutes and these five ingredients (trust us, you do!), then you've got the makings for a warm, slurp-able lunch or dinner. #yourewelcome
---
Vegan Banana Soft Serve
Take those bananas you've got on the counter, chop them up, and stick them in the freezer! In just a few hours, you can put the frozen fruit in the blender and add whatever flavors you'd like (we recommend a dab of cocoa powder) to create a healthy ice cream alternative.
---
Gourmet Ramen
You know you've got a package of ramen buried somewhere in that pantry! Dig it out, add some vegetable broth, and whatever toppings you'd like, and you've just elevated your favorite college snack. Not bad, huh?
---
Parmesan Roasted Cauliflower
You can fry just about anything. This recipe calls for parmesan, oil, and breadcrumbs. Then take the mixture and slather it on whatever veggies you have on hand for a savory meal.
xx, The FabFitFun Team