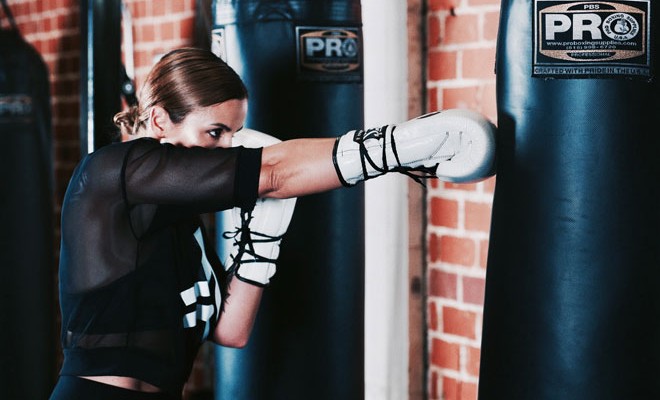 Nothing beats the exhilarating adrenaline rush you get after kicking some major butt during a killer workout.
So if you want to feel the burn and more, work out with Prevail Boxing.  Their total body workouts are designed to create long and lean muscles, helping you get stronger without the bulk. Not only that, each workout is designed to improve your overall endurance while teaching you a unique and complex skill set — no wonder celebs like Jamie Chung, Ashley Tisdale, and Amanda Seyfried are obsessed!
That's not even the best part — you can work out with Prevail Boxing wherever you are with FabFitFunTV. Start off with beginner workouts and learn how to do a straight punch, hook, uppercut, and more or try out their signature high-intensity, sweat-inducing "SWEAT" class that features a full-body boxing circuit.
Meanwhile, check out what Milan Costich, founder of Prevail Boxing, had to say about his unique fitness program, what first-timers should expect, and how he stays motivated to workout when he's just not in the mood (hint: it involves a podcast!). Oh, and you can enjoy $10 off your first class with the code FFFxPRVL. #yourewelcome
How did you first discover your love for fitness and health?
My love for fitness and health really blossomed when I started training a friend in boxing for the first time. I watched his life transform; he lost weight, got off heart medication, and for the first time ever, loved working out. Getting to see the positive impact fitness had on his health and entire lifestyle was incredibly rewarding and gratifying.
What makes your workout method unique?
Our community loves that our workouts are ever-evolving. They feel daily improvements not only physically, but also mentally too — boxing requires focus, it's tension-relieving, and it also pushes you to find mental strength in the face of physical fatigue.
What are people most surprised about when they first try your workout?
People always assume that boxing is all arms, but it's quite the contrary. It's a full body workout that creates lean and toned muscles, which explains why it's a go-to workout for runway models like Adriana Lima and Gigi Hadid.
What should a first-timer be prepared for when trying your workout?
It's going to be sweaty! Our workouts are challenging, but at Prevail, we embrace challenges because we know that's how we grow and improve. We create a positive and encouraging atmosphere so that you feel supported in getting outside of your comfort zone. The strength of our community is fueled by the fact that everyone is on their own personal journey; rather than competing with one another, we're all working towards getting one percent better each time we box.
How do you motivate yourself to workout when you're not in the mood?
When I'm looking for a little extra motivation pre-workout, I'll usually turn to one of my favorite podcasts for some inspiration. I also love working out with friends that hold me accountable and push me to give my best. I like to switch up my workouts to include things like Brazilian Jiu Jitsu and Muy Thai to keep it exciting, both physically and emotionally.
How do you think fitness has changed in the digital realm?
In general, fitness no longer feels like it's a luxury for people — it's just part of the lifestyle. Offering fitness in the digital realm is such an amazing resource. It makes it so much easier for people in any situation and with any budget to join a community and get in shape. It doesn't matter if you're traveling, or if you get off your job at three in the morning and need to get in a sweat — you can always find an online at-home workout.
What are three reasons why FabFitFunTV members should try your workout?
1. It's a full body, calorie burning, muscle toning workout.
2. You'll learn a brand new skill set.
3. Boxing requires total mental presence and allows you to physically release stress, resulting in a very clear, calm mind. It empowers you to find your inner fighter that's capable of accomplishing anything, in and out of the gym.
xx, The FabFitFun Team