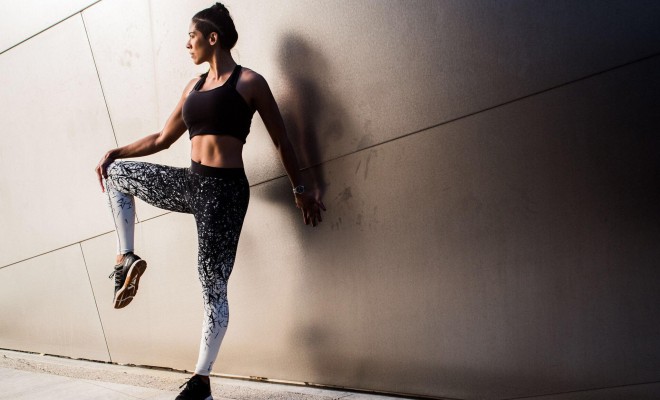 Raise your hand if you've ever ditched a workout because you didn't feel like going. Us, too. But what if we gave you a solution that'll take your fitness to the next level and make you never want to skip a workout again?
Meet Edwina Cheer — the amazing fitness guru understands that working out shouldn't just be about getting physically fit…because where's the fun in that? Not only does the Los Angeles-based Australian fitness guru guide her clients through butt-kicking HIIT workouts, she also creates sustainable fitness plans that focus on mental strength. After all, how great would it be if you brought your A game — both physically and mentally  — to every sweat sesh? You'd kill it every time!
So if you feel like your fitness routine needs a revamp, check out some of Edwina Cheer's workouts on FabFitFunTV! To top it all off, we chatted with the guru about her time as a sports nutritionist for a former UFC champ, her favorite part about getting people into shape, and what gets her excited to work out.
If you want more from Edwina Cheer, be sure to check out her Instagram (@eddsthetics) for daily fitness inspo.
What's your favorite workout to do when you're on-the-go (i.e. traveling, etc.)?
Being a girl on-the-go in this era often means my workout is usually pressed for time. For that reason, I'm a huge fan of plyometrics! This is basically jumping around like a lunatic for about 20 to 30 minutes with short recovery periods within that period (approximately 15 to 30-second rests). My Explode Series on FabFitFunTV is set up to be plyometrics and intensity based. It gets the heart rate up super high and it's as intense as ever, but it's the fastest way to torch those calories while getting results!
How do you encourage yourself to work out when you just don't feel like it?
In the beginning, it was tough. I had to create the habit of taking consistent action in my health despite what I felt like. In my book, The Mind Diet: Your Guide To Greatness in Health and Life, I write about exactly how to create healthy habits and how to set yourself up for success in my book. Because the truth is, you're not going to feel like working out most of the time. That's why The Mind Diet teaches you how to keep taking those workout steps, so you're moving forward towards your goals no matter how you feel or what comes your way.
What's your favorite part about helping people get in shape?
My favorite part is the mental transformation that happens to that person right before my eyes. It's one thing to run alongside someone, watch their abs unfold, or witness the pounds fall off, but that's such a small part of a fitness journey. I watch people blossom into their best selves and to play a part in that is a true gift!
Is there one particular client success story that makes you smile?
In terms of successful transformations, being the sports nutritionist for former UFC light heavyweight champion, Quinton "Rampage" Jackson for numerous professional fights ranks up there as some of my best work. Under my nutritional programming and preparation (along with working in conjunction with the MMA conditioning team), Rampage was able to win every fight.
How do you hope your clients feel after taking one of your workouts/classes?
I hope they feel tired but mentally invigorated. I also hope they leave with a smile on their face because they are remembering all of the corny jokes I told.
How do you think workouts are changing in the digital realm and with the rise of fitness on social media?
Today, it's so easy to access the best workouts from the comfort of your own home (or wherever there's an internet connection). There really are no excuses now [for] missing a workout and you have the best resources available at your fingertips whenever it suits you. You also don't need a fancy gym membership or expensive equipment to get started. Needless to say, there's never been a better time to get fit!
xx, The FabFitFun Team