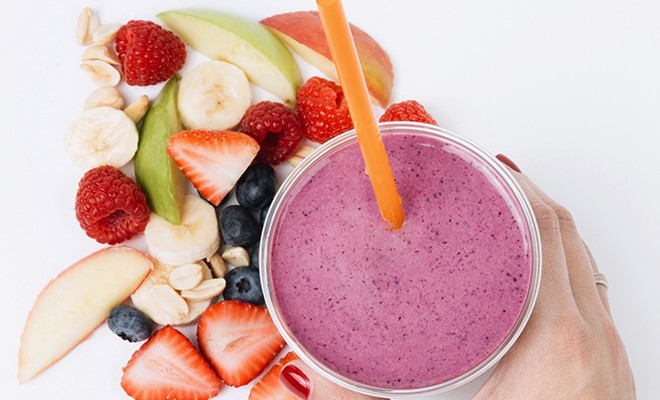 Sponsored by Jamba Juice
We all know about juicing, but what about blending?
Our friends at Jamba gave us all the details on the benefits of blending, and since they know a thing or two about fresh flavorful smoothies, we'd say we're pretty much sold.
Here are three reasons to embrace the blend:
It makes food easier to metabolize. Blending breaks down the fiber and nutrients in fruits and veggies, offering you an immediate boost of energy.
It's filling. Blending whole fruits and veggies captures the most fibrous parts that juicing leaves behind! This also helps you feel full longer and improve your digestive health.
It's fast. Even for the busiest schedules, blended drinks are simple and quick to prepare, with little clean-up.
For the days you don't have time to whip up your own nutritious smoothie, just stop by Jamba. Now, Jamba Juice carries three Super Blend Smoothies that were developed in collaboration with Harley Pasternak, nutrition and fitness guru to the A-list, and star of TV's Revenge Body.
Here's what Harley has to say: "I've spent my career helping celebrities understand the benefits of blending. Until now, my clients had to blend at home or at my studio. Through my partnership with Jamba, everyone can enjoy convenient access to these nutritious Super Blend Smoothies and begin feeling their best right away."
Jamba's Super Blend Smoothies are made with a signature combination of protein, fiber, and healthy fats, offering an ideal meal replacement on the go. Inspired by Pasternak's 5-day Body Reset philosophy, these smoothies are built to reset your palate, appetite, metabolism, and digestion.
Check out the flavors below:
Apples 'N Charge
Think: apple pie, but better-for-you. Made with apples, bananas, pumpkin seeds, nonfat Greek yogurt, and ground cinnamon, this smoothie offers a natural supply of protein and antioxidants with every sip.
---
PB 'N Jealous
Putting a fun twist on everyone's favorite peanut butter and jelly sandwich, this smoothie blends berries, peanut butter, whey, and chia to give you an ideal meal option.
---
Green Up 'N Go
You can power through any day with this refreshing smoothie, which is packed with apples, nonfat greek yogurt, cucumbers, spinach, grapes, and more! Drinking green never tasted so good.
---
If you're not feeling a smoothie, Jamba has new Chia Pudding Cups that just launched in stores today! Fun fact: chia was used by ancient warriors for energy and endurance. Packed full of protein and Omega 3 for heart health, the only question now is…Passion Turmeric or Berry Berry Coconut?
P.S. Get $3 off your first order when you sign up to become a Jamba Insider Rewards member. Click here to join.
xx, The FabFitFun Team