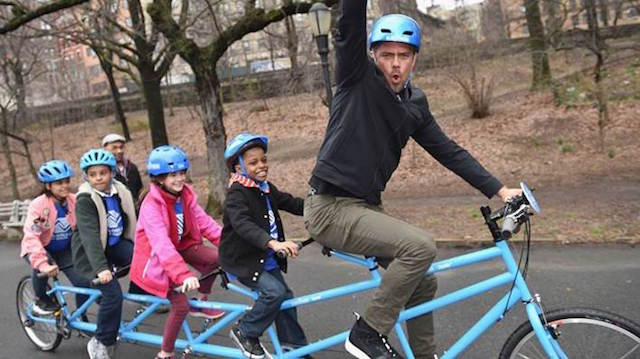 Did you know that according to Columbia University's Mailman School of Public Health, Americans spend 95% of their time indoors? Yikes!
And while you may have plans to go see Transformers: The Last Knight in theaters this June, one of the stars is actually encouraging you to spend the rest of your day outside. Father, husband, actor, and outdoorsy hunk Josh Duhamel is teaming up with Claritin to advocate spending more time out of the house — something many of us forget to make a priority.
We had a chance to chat with Duhamel about his involvement, how he stays active, and more!
Tell us why you decided to partner with Claritin.
This was a natural fit for me. When I found out that 95% percent of our time is spent indoors I was shocked by that, and I think that it's a big problem. When Claritin came to me and asked me to be a part of their "Be An Outsider" campaign, it was a no-brainer because it's what I believe in anyway. It's about getting people to get out of their comfort zone, which is air conditioning and TVs and computers and surround sound and everything else that makes life easy. But there are a lot of things we can do outdoors that have associated health benefits — improves your mood, increases your energy, relieves stress — it's all those things.
Can you share with us a memorable moment from the outdoors in your home state of North Dakota?
Some of my earliest memories are of me up early in the morning, out of the house, fishing, catching frogs, exploring, and it developed a real love for nature and wildlife for me. When I get out into the deep woods when there's nobody around, there's something spiritual about that, and it lifts my soul in a way.
What are your favorite outdoor activities with your son Axl?
He loves running around like a lil maniac on the beach and also enjoys swimming. He just loves going to the park and hiking the trails, and it's funny three-year-old boys find such interest in sticks. Our collection of sticks at our house is insane, we could have a giant bonfire with them. And he remembers every single stick and where it belongs, before we go to the park he'll make sure that every one of them is there.
What is a typical, weekly exercise routine for you?
Well, it includes a lot of circuit training lately with cardio and weight training intervals, but I've really started doing a lot of yoga lately — which for me is so important. My flexibility has gotten better, and I feel stronger than I have in a really long time. I'm not as injured as I was before because of yoga, so that really has helped.
Did you have a specific workout regimen to prepare you for your role in Transformers: The Last Knight?
For Transformers, it was more athletic training. You know, I'm in full army gear the whole time so it's not really about getting ripped as much as it is about just getting strong because you're carrying a gun around and trudging through the desert — bombs going off — and being injured during these shoots can be brutal, so for me it was all about strengthening.
Do you ever find it difficult to maintain discipline in your exercise routine when you travel? Any tips on staying motivated?
The diet is probably the hardest part because again, unless I have my food delivery there I'll end up eating whatever is most handy. So I try and stay extra clean when traveling by incorporating a lot of green juices because I know how easy it'll be for me to eat unhealthy. One of the first things I'll do is find a place to workout. Whether there's a yoga place near by or a place with circuit training, I make that part of my routine right away. My advice for travelers out there who look to stay healthy would be to find what you like and set a routine.
Join Claritin's "Be An Outsider" campaign by posting a pic outdoors using #beanoutsider and #claritin, and Claritin will donate to the Boys & Girls Club of America.
xx, The FabFitFun Team