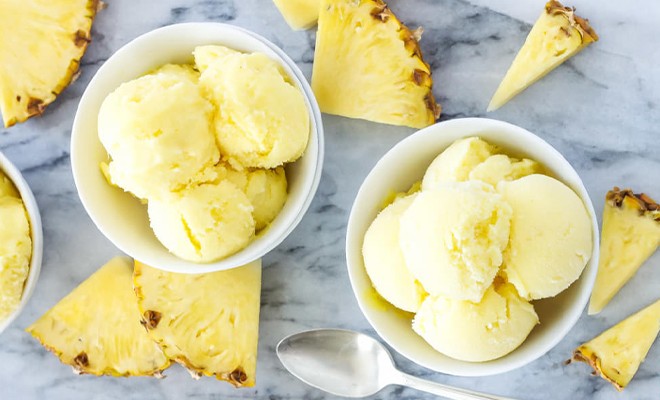 spoonfulofflavor.com
What kind of summer would it be without a couple piña coladas? There's just something about the blend of pineapple and coconut that transports us to a tropical paradise.
So with National Piña Colada Day (July 10) coming up, it's the perfect excuse to indulge in all the flavors of summer. From chilled sorbets to fluffy pancakes, we've rounded up a few of the yummiest recipes to ring in the season.
Classic Piña Colada
Pineapple juice, coconut cream, and rum are three ingredients you just can't go wrong with. Mix up a batch of this classic recipe to properly enjoy the original combination of these summer flavors.
---
Piña Colada Cupcakes
The only thing better than a piña colada cocktail is a piña colada cupcake. Bake up a storm with this delicious recipe for a sweet treat.
---
Piña Colada Fruit Dip
Enjoy the flavors of piña colada  with a nice fruit dip. It's the perfect way to enjoy all of your favorite summer fruits in one bite…yum!
---
Piña Colada Sorbet
Take your piña colada game to the next level by adding the classic ingredients of pineapple, coconut milk, and rum to your ice cream maker. In a couple of hours, you'll have the best boozy treat since…well, ever!
---
Piña Popsicles
For a more kid-friendly option, skip the alcohol. That way everyone can enjoy the flavors of summer and stay cool in the heat. Be sure to make extras because people are going to want seconds.
---
Piña Colada Banana Bread
Shredded coconut, pineapple, bananas, and a few other ingredients and you can have piña colada for breakfast. This is a breakfast of champions, indeed.
---
Piña Colada Chia Overnight Oats
A few additions to the classic colada recipe can turn a cocktail into a healthy morning meal. Rolled oats, chia seeds, and greek yogurt are just some of the ingredients you'll need to create the most tasty brekky.
---
Piña Colada Cheesecake
Why stop with happy hour when you can incorporate a piña colada treat for dessert, too? This cheesecake is a great option for those ready to keep the piña colada party going!
---
Piña Colada Pancakes
Who doesn't love pancakes for breakfast? Amp up a regular batch of good ol' Bisquick with coconut flakes and crushed pineapple to start your morning off right.
---
Strawberry Piña Colada
Jazz up the classic cocktail with some juicy strawberries. The tartness from the berry pairs perfectly with the pineapple and it's a flavor combination you'll want to sip on all summer long!
xx, The FabFitFun Team