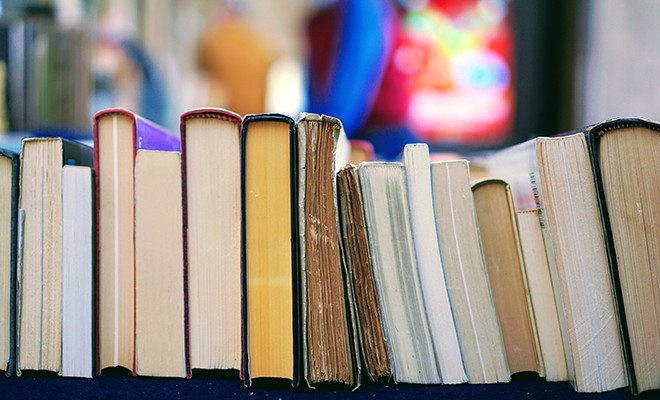 Tom Hermans
There are two types of people in the world: the ones who read every book teachers assigned them and the ones who relied on SparkNotes to get through them.
Wherever you fall, you have to admit some of the best books we read were on our high school reading list — and they're classics for a reason. From Shakespeare to Fitzgerald, we're throwing it back to literary classics we wouldn't mind reading again today!
"Romeo and Juliet" by William Shakespeare
Who doesn't know the infamous story of Romeo and Juliet? This classic story paved the way for the future of romantic and tragic love stories. Sure, the language and clothes are a bit outdated, but there's something about forbidden love that always pulls in a hopeless romantic.
---
"The Great Gatsby" by F. Scott Fitzgerald
Take away all the symbolism, foreshadowing, and metaphors, and The Great Gatsby is still one of the best stories around. Jay Gatsby, an enigmatic millionaire, throws the wildest parties at his West Egg mansion that would put today's party boys to shame. There was something so endearing about Gatsby's attempt at wooing an old flame and F. Scott Fitzgerald pulls the audience in for the ride.
---
"The Catcher in the Rye" by J.D. Salinger
J.D. Salinger's Holden Caulfield is the epitome of teenage angst. Holden leaves boarding school, goes on the lam, smokes cigarettes, and hangs out with prostitutes. He may have been a bit more hardcore than we were at the time, but it was refreshing to be able to relate to a character who was experiencing the same confusion of young adulthood.
---
"Of Mice and Men" by John Steinbeck
Standing as another classroom perennial, Of Mice and Men is arguably Steinbeck's most famous novel. It chronicles the adventures of George and Lennie, a seemingly random pair of migrant workers just trying to reach their goal of a small farm with rabbits to pet. Whether or not you think it's a metaphor for the American Dream, you can't deny it's a good story.
---
"The Scarlet Letter" by Nathaniel Hawthorne
The Scarlet Letter is definitely a bit more controversial than the other books on the list. Hester Prynne is a young woman in a Puritan town in the Northeast US that commits adultery and gets pregnant doing so. As punishment, she is not only shunned by the whole community, but is also forced to wear a red "A" on her clothes. Later on, it's revealed that the father is actually the town minister.
---
"Ender's Game" by Orson Scott Card
Orson Scott Card creates a world where Earth is overpopulated, space travel is normal, and aliens exist. Andrew "Ender" Wiggins is one of many children to attend a military school that breeds soldiers for humanity's war against aliens. This underdog overcomes all odds and eventually becomes Earth's general and savior.
---
"The Perks of Being a Wallflower" by Stephen Chbosky
Perhaps one of the best coming-of-age novels around, The Perk's of Being a Wallflower grapples with introversion, drugs, sexuality, and self-identity. The story follows Charlie, a quiet teenager that lives on the fringes of high school society during his freshman year. This novel was great in helping other wallflowers realize that it was OK to be different, to be introverted, to be homosexual, and to be themselves.
---
"Freedom" by Jonathan Franzen
In his novel Freedom, Jonathan Franzen tells the story of the Berglund family using multiple points of views. Switching from character to character, the audience gets to explore the thoughts and actions of a family going through change, both good and bad. It's safe to say everyone will have at least one character they can identify with.
---
"Extremely Loud & Incredibly Close" by Jonathan Safran Foer
Extremely Loud & Incredibly Close was published in 2005, which was four years after 9/11. In the novel, we follow young Oskar Schnell as he deals with insomnia, anxiety, and depression in the aftermath of his father's death due to the 9/11 attacks. He finds a mysterious key in his father's closet and embarks on a journey around New York to find a remnant of his father's memory.
xx, The FabFitFun Team