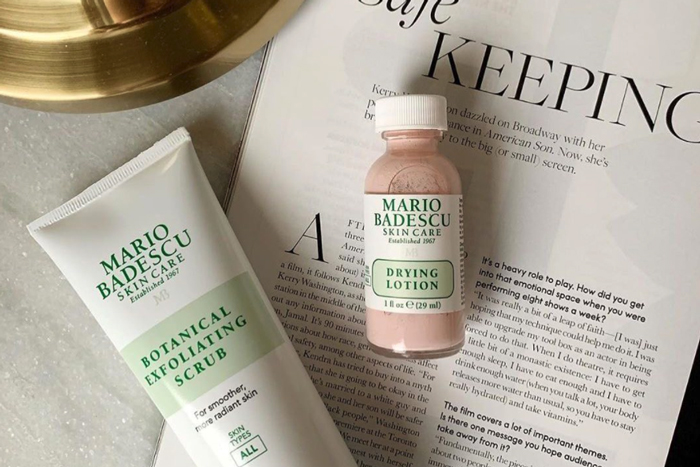 Feature Image by @itsdariagontsova
Acne: that fun skin condition that affects everyone, no matter your age — especially now that we're constantly wearing face masks.
There are so many different ways to treat acne these days, and one of the most effective is spot treatments. Spot treatments are a high dosage of acne medication that you place directly on the blemish. They help reduce swelling, redness, and the size of the actual pimple.
We rounded up the most effective spot treatments to try!
This is one of the most iconic products when it comes to spot treatments. It is clinically proven to show clearer skin in 100% of users, in just a day. Advantage Spot Treatment has 2% salicylic acid that works quickly to reduce the size and redness of the blemish while the added witch hazel soothes the skin.
---
When it comes to skin care, First Aid Beauty knows what they are doing. Their latest launch is a new spot treatment that is formulated with resurfacing acids and fruit enzymes to fight and reduce the look of acne and scarring. Plus, it has aloe and oatmeal to calm any irritation and make sure your skin doesn't dry out.
---
Proactiv has been acne's nemesis for over a decade so your pimples won't stand a chance against their spot treatment. It is formulated with 5% benzoyl peroxide that gets deep into the skin to clear the acne and help prevent new pimples from forming.
---
Acne dots are a new innovation in the beauty space and the ones from Peach Slices are very effective. They are invisible stickers, formulated with hydrocolloid that you put on your pimple and leave on overnight. In the morning, your spot is a lot smaller and less red. These are also great for pimples that are under the skin!
---
Light therapy might sound like something only done in a doctor's office but Neutrogena has made it possible to use it at home! This handy little wand is super effective when it comes to clearing your blemishes: just place the light on the pimple, turn it on, and wait for the light to turn off when the treatment is finished. Your pimples will be noticeably smaller the following day and will be gone in a flash!
---
Pacifica recently released an entire line of acne-fighting skin care. That includes their new spot treatment that has maximum strength salicylic acid along with sage, cucumber, and mint to soothe the skin. The best part about this spot treatment is that it's 100% vegan and cruelty-free.
---
An oldie but a goodie comes in the form of EradiKate. This spot treatment is formulated with sulfur, BHAs, and zinc oxide to not only get rid of the pimples but also prevent future breakouts!
---
This might be the most famous acne spot treatment ever. This pink and white formula is expertly designed to rid your skin of spots and blemishes in a flash. Not only does it have sulfur and salicylic acid to fight breakouts, it's also formulated with calamine to provide a calming, soothing effect.
---
This treatment has been around for over 20 years and is still one of the best-rated spot treatments. Differin is clinically proven to show a 60% reduction in acne after 12 weeks of use and continues to work with even more use. While this is a clinical formula, there is no prescription required!
---
This under $25 option is ideal for those who wear foundation! The treatment has 2% salicylic acid to get deep down in the pores to clear breakouts. The oat extract infused in the formula helps to reduce redness, fight inflammation, and soothe the skin. The addition of witch hazel tightens the appearance of pores, so it's a triple threat treatment!
xx, The FabFitFun Team