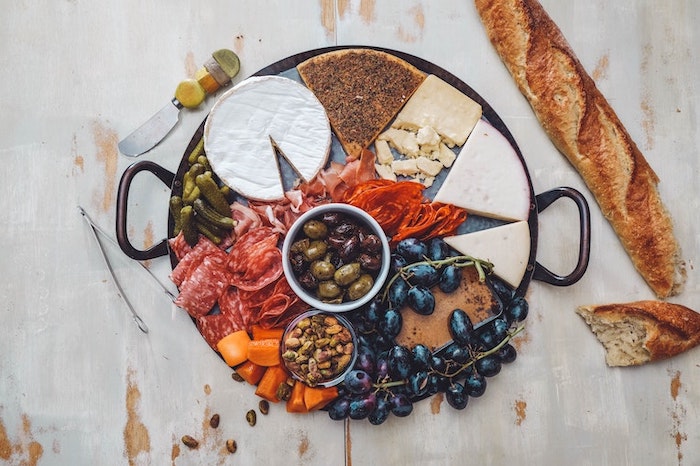 From girls' night to holiday parties, the charcuterie board is a sophisticated staple in many a festivity. And it should be! It's basically the culinary equivalent of a party — salty meats, a variety of cheeses, fruits, nuts, jams, crackers, pickles, and spreads –all intermingling in merry, delicious symbiosis. 
The word charcuterie comes from the French words chair ("flesh") and cuit ("cooked"), and as the name suggests, charcuterie boards were not always the variable cornucopia of delectable accouterments they are today. In their truest form, they focus primarily on smoked and cured meat products. But that's no fun.
If you're looking for more than the elevated equivalent of a meat lover's pizza, read on! The beauty of neo-charcuterie is that it's completely customizable and the options are endless. We'll break down basic board anatomy and then offer some inspo to get your creative juices flowing.
The Anatomy of a Charcuterie Board
The Board
When it comes to charcuterie, the visual appeal is almost as important as the flavors. Choose a board that reflects the overall vibe you'll be evoking (is it clean and classy? Rough and rustic?) and make sure that its size is commensurate with the number of items you'll be laying out. Not looking to get super fancy? A solid cutting board is a great start!
---
The Meats
Since meat is classically the star of the charcuterie show, we'd be remiss to exclude it altogether. You'll want to grab thinly pre-sliced varieties that are richly flavored but won't overwhelm the other members of the board.
---
The Cheeses
Ahh, cheese. The key here is variety. There is a lot of flavor-and-texture diversity in the fromaggian world, and good representation couldn't be more important when it comes to charcuterie. For best results, snag at least one creamy, one hard, one interesting, and one classic. A good assortment following this pattern might be brie, Parmigiano Reggiano, clover honey goat cheese, and a smoky gouda or cheddar.
---
The Accents
This is where the party really starts popping. Accents will fill out your board, so make them pretty — and relevant! They should get along well with your foundational elements (the meat and cheese). Popular accents include various fresh and dried fruits, fresh herbs, pickles and olives, nuts, jams, honey, spreads (think: paté, hummus, or spicy jelly), and bread or crackers.
---
Our Favorite Charcuterie Boards
Now that you know the basics, here are some innovative ways to get on board with charcuterie.

Squeeze the last of our summer days with this chic, simple plate.
---

Although vegetables don't really count as "cooked flesh," this gorgeous board evokes all the refinement and heartiness of the classic charcuterie.
---
Be the host(ess) with the most(est). This epic party board is sure to be a hit at your next (socially-distanced) gathering.
---
Ain't nothing wrong with a one-(wo)man party. Grab the wine and curl up with one of this adorable charcuterie-for-one.
xx, The FabFitFun Team