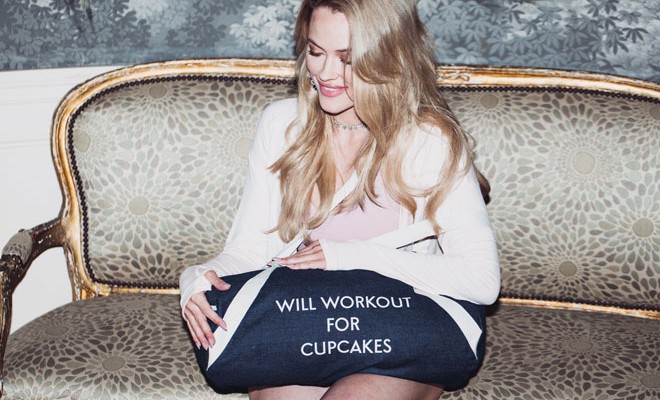 FALL 2017 BOX PARTNER
Dancing with the Stars champion Peta Murgatroyd gives us a peek inside her PRIVATE PARTY gym bag and shares some sweet advice on how to love your body more.
If you want more wisdom on wellness, family, and glamour, check out her blog All Things Fam and Glam.
What's in your gym bag?
My bag is super simple. I don't like to stay at the gym to shower and get ready, so I have the bare essentials in my bag to get me through my workout. I cannot be at the gym without my headphones or my phone because it holds my music. If they don't go into my bag, I literally can't concentrate or get motivated. I then have a good shea butter lip balm because there's nothing worse than cracked and dry lips when you're sweating. Also, a concealer stick in case I need to cover up a pimple as I leave.
Do you like to go makeup-free during your workout and do you a have a specific skin care routine after a gym session?
I'm a huge no-makeup policy gym girl. Now more than ever (as a new mum), [I] don't have time to waste by putting on mascara and foundation. My skin gets pretty red when I work out, so I naturally don't want to irritate it, which is another reason why I don't wear makeup. Before I go to the gym, I put on my lightweight moisturizer, and after I wash my face at the gym, I put on some Chapstick.
How has your workout routine changed since becoming a mom?
I guess the only thing that has changed with my routine is how much time I spend at the gym. I have to be more aware of not wasting my time away from Shai, so I do a more compact gym session and generally just pack more into my time there.
What advice do you have for new moms who are trying to get back into shape? How can they love their bodies more?
My number one advice is patience. Have patience with your body and really just rest and love the process. It's a ridiculously hard thing to do, believe me. I went through everything that every other mom did. There were days where I wouldn't listen to people when they told me how beautiful I looked, but then I had days where I sat back, and actually saw how great I looked and I appreciated [myself] and what my body had done. It's an incredibly overwhelming experience, but the more you embrace the changes, the happier you will be because they aren't permanent. You will get your body back when it's ready
and I would put money on the fact that you'll even love your post-baby body more! At first, I looked like a different person — I didn't recognize my body and it scared me. Positive thinking and continually telling yourself that it will take time will alleviate your mind from getting annoyed if you aren't back in two weeks.
You work with a lot of dancing beginners on DWTS. What advice do you have for a newbie trying to get into dance?
My advice would be to start taking some fun classes. Don't start in the advanced levels, and then get put off. Start slow and have fun! Dancing is something that makes everyone happy as it's been proven to boost endorphins and cure people from illness. I don't know what I would do if I couldn't dance. It's a way to express yourself and to feel whatever emotion you feel at that time. Finding someone who loves to do it with you is also fun, and as you have seen, many relationships have begun from people being paired up!
How would you describe your personal style? What are some of your fall fashion favorites?
My style can be very different depending on my mood. I am a super classic girl. I love my black and white palettes, and I'm a huge fan of a structured outfit with a cinched waist. I am also very willing to try some "out there" outfits as long as it's classy. I feel like I have a split personality when it comes to my style: I could be in sweats all day, and then I could be super glam in a ball gown. I also just can't get enough of the staple jeans, white tees, and white sneakers.
xx, The FabFitFun Team
P.S. Psst! Have you signed up for the #FabFitFun box yet? Don't miss out on $200+ in amazing beauty, fitness, fashion, and lifestyle products every season. Join today!
To get the most out of your box products, make sure to check out the Insider page.