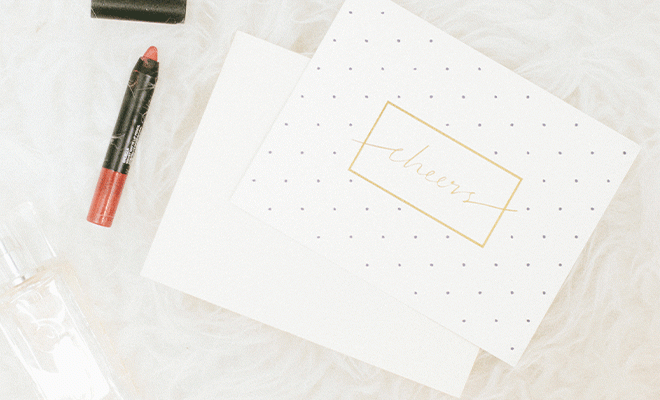 Technology has definitely made communication easier, but nothing expresses gratitude like a personalized "Thank You" card.
Well, it's time to get personal this holiday season. Whip out your "Thank You" card set (the Marie Mae Thank You Card Set from the FabFitFun Winter Box is our favorite) and start writing!
Want to go the extra mile? Here are a few ways to make your holiday cards even more personal this season:
Add Confetti
Sprinkle some confetti in the envelope or inside of the card, so your recipient gets a surprise when they open it up. It's like a mini party in an envelope!

Letter the Front of the Envelope 
Handwriting your cards is great, but adding touches of calligraphy will make it even better. For easy lettering, write your message in cursive, and every time your pen strokes downward, make that line thicker.
Spritz Perfume
Channel Elle Woods! It might seem a little cheesy, but it's actually really personal — especially if your loved ones know your signature scent. Spritz your thank you card with a little bit of your perfume to add a thoughtful touch to an otherwise bland card.

Seal With a Kiss
How cute is this? Put on a coat of bright lipstick and literally end your note with a kiss! If you're worried about the lipstick smearing, add a piece of clear tape on top of the kiss.
xx, The FabFitFun Team
P.S. Psst! Have you signed up for the #FabFitFun box yet? Don't miss out on $200+ in amazing beauty, fitness, fashion, and lifestyle products every season. Join today!
To get the most out of your box products, make sure to check out the Insider page.