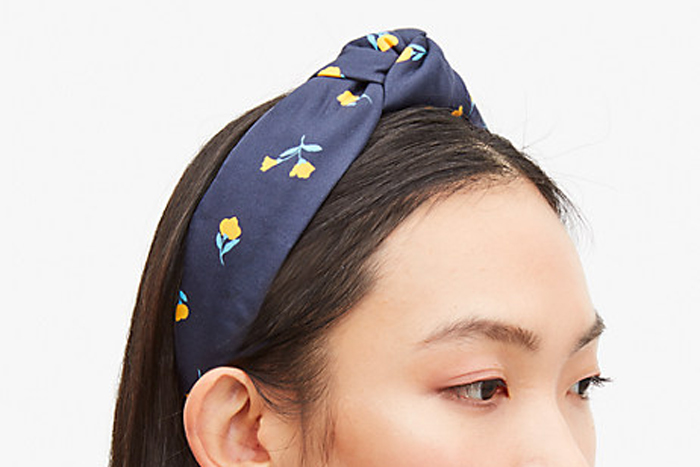 Feature Image by Kate Spade
When it comes to the summertime, we all want to be our brightest, best selves. After all, summer calls for the boldest colors, and there's something about the warm weather that makes us want to rock colorful hair accessories and fun prints. 
So now's your chance to snag some colorful accessories, from water bottles to hair ties, in the Go for the Bold Sale. It's time to embrace the season with these statement items, at up to 70% off! The sale opens to members on Thursday, July 1 at 9 a.m. PT and closes on Monday, July 5 at 11:59 p.m. PT. 
If you're not a member yet, use code GOODIESGALORE at checkout to shop the exclusive sale and for 20% off your first box.
There is nothing like a colorful scrunchie to put you in a good mood, especially when that scrunchie is by Invisibobble and doesn't leave any creases in your hair. The Power Rainbow scrunchie is exactly what it sounds like: a powerful rainbow scrunchie that will look great in your hair or on your wrist!
---
Invisibobble has the cutest hair accessories on the market, so it's no surprise that they would get in on Pride month! This sprunchie is a mix of the classic scrunchie of the '80s and '90s, but underneath is a classic Invisibobble hair tie — one that will not crease or crunch your hair. For Pride, of course, the sprunchie got a rainbow makeover that will have you wanting to wear it in your hair and on your wrist, every day of the year!
---
Headbands are back in a big way so it's time to make a statement with a fun, summer headband. This Garden Ditsy Headband is just that! It's a bit more subtle due to the navy blue color but the yellow flowers give it that touch of summer that you crave.
---
Scarves aren't just for winter! They can be a fun summer accessory too, especially when it's a beautiful blue color with a fun design like this paisley one. The skinny size is perfect for adding to a beach bag or tying in your hair for something different.
---
Sometimes hats and masks don't mix and since we're all still acting on the side of caution, a face shield might come in handy. That's why this sequin safety hat is perfect for summer outings. You can remove the safety shield if you wish, but either way, it makes a statement.
---
The brand is known for its colorful, fun accessories so it's no surprise that they show up on this list. This water bottle is pink, red, full of glitter, and has a sophisticated rose design. It's everything you could want out of your water bottle!
---
If you're a fan of bright, fun accessories you probably also like to add something fruity to your water. That's where ban.do's infuser water bottle comes in! It's the perfect way to add something fun to an otherwise ordinary drink. The 'be nice to yourself' statement is so important and the colorful rainbow font makes it all that more exciting! It's the perfect water bottle for everyone.
---
Just like the Potpourri bottle, the small confetti version is fun and cool! While it's not as loud as the potpourri, the colorful glitter, and pink cap will make a statement no matter where you are.
---
If the ban.do water bottles aren't your thing, you might like S'well bottles better. The metal bottle keeps your drinks extremely cold for extended periods of time and with 17 ounces, you'll be hydrated all day long. The Milkway color is subtle but striking thanks to the holographic, almost glittery finish!
---
Maybe you want to be a bit bolder with your water bottle accessor — enter the S'well Satin Bikini Pink! It's a hot, neon pink color that will stand out in the gym, at the beach, or while running your daily errands.
It's time to grab our most colorful, statement-making essentials until July 5 at 11:59 p.m. PT.
xx, The FabFitFun Team