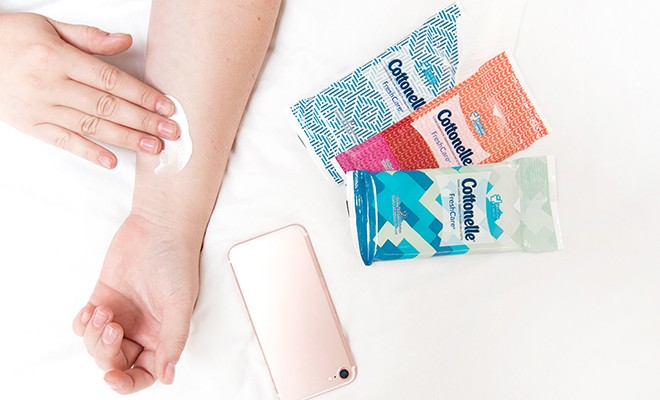 Sponsored by Cottonelle®
We all take our personal care routines very seriously. Whether it's flossing daily or wearing paraben-free foundation, we like to make decisions that are best for our health.
That's why we take extra care when it comes to these three overlooked parts of our personal care routine. Are you skipping these steps? Check it out below.
1. Using flushable wipes with bath tissue
Yes, you read that right. Using standard bath tissue alone may not be enough to keep you feeling fresh throughout the day. That's why we use flushable wipes like Cottonelle® FreshCare® Flushable Cleansing Cloths. Only Cottonelle® features CleanRipple® Texture, which is designed to clean better†. Bonus: a recent study⁺⁺ suggests that feeling cleaner actually leads to feeling better, with 4 in 5 Americans tying cleanliness to a more pleasant mood.
2. Applying SPF to your face and body
We hear it time and time again: Wear SPF daily, but confess — do you apply it to just your face and not your neck and body? Use a broad-spectrum sunscreen of 15 or higher every day and SPF 30 for extended outdoor activities.
3. Disinfecting your phone regularly
Did you know some research suggests that cell phones can be dirtier than toilet handles? Not only that, Mashable reports, "Each square inch of your cell phone contains roughly 25,000 germs." Think about it…you use your phone daily to text, take calls, scroll through the 'gram, and more. And in the process, you're probably transferring these germs when you touch your face and body. So do yourself a favor and wipe your phone regularly with antibacterial cloths.
xx, The FabFitFun Team
---
†per sheet vs. leading national value brand
⁺⁺According to a 2017 Cottonelle survey conducted with IPSOS