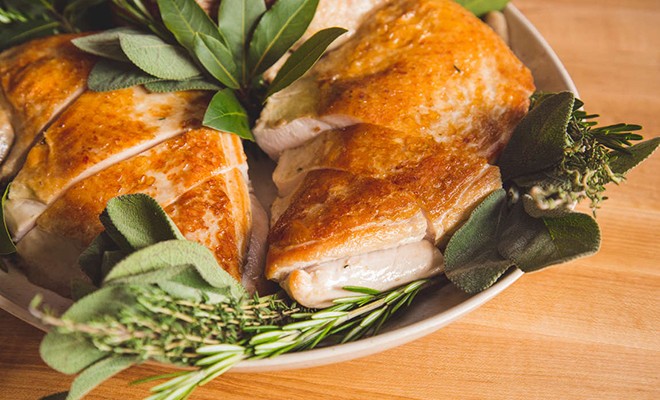 chefsteps.com
From cornbread to stuffing, we all love to feast during Thanksgiving. But the one main dish we always look forward to is the beautifully roasted turkey with golden skin.
Mastering the perfectly cooked turkey can be stressful, but we have the perfect solution so you won't screw up your turkey: cook it sous vide. If you're not familiar, sous vide is a cooking method where food is sealed in plastic bags and cooked low and slow in a temperature-controlled water bath — just follow the recipe below!
While this may not be the most traditional, whole-bird recipe, it'll be the juiciest turkey ever.
Ingredients
1 pre-brined turkey, light and dark meat separated
4 cloves of garlic (don't be afraid to add more!)
Herbs of your choice (we recommend sage, thyme, and rosemary)
Olive oil
Butter
Salt and pepper to taste
Directions
1. Using an immersion circulator, pre-heat your water bath to 150°F (or 65°C).
2. Pre-sear your meat on a hot pan with a little bit of olive oil.
3. Season all your turkey pieces with salt and pepper to taste.
4. Place turkey breasts (white meat) into one bag and legs and thighs (dark meat) into a separate bag.
5. Put desired amount of olive oil and herbs in both bags.
6. Seal dark meat bag and drop into water bath for at least 12 hours and up to 24 hours.
7. When you're ready to start cooking the turkey breasts, adjust water bath temperature to 130°F (55°C). Once that comes to your desired temperature, seal and drop in your turkey breasts. White meat follows the same time constraints: 12-24 hours. (Note: you can leave your dark meat in the water bath while the breasts are cooking!)
8. When the turkey has been cooking for your desired amount of time, remove the contents from the bags, and pat them dry.
9. On high heat, warm up your pan, add some olive oil and butter, and sear your turkey pieces — don't forget to baste!
xx, The FabFitFun Team