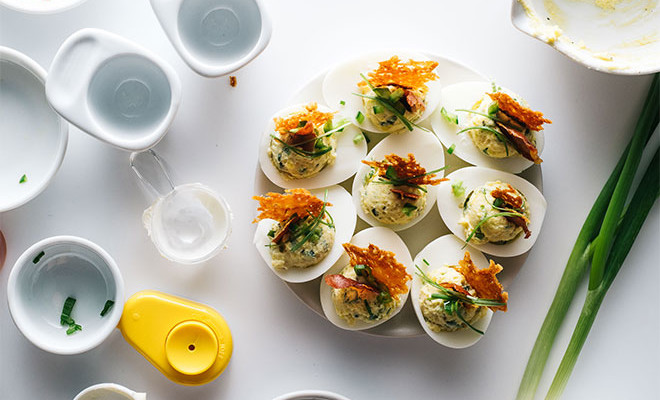 Once the eggs have been boiled, the shells have been dyed, and the Easter egg hunt is over, all you're really left with is a fridge full of smelly hardboiled eggs.
There's only so many days in a row we can force that pop of protein down the plain way, so we want to give you ideas to make them more eggs-citing! Deviled eggs are the new truffle fries at restaurants, and for good reason. Check out some of our favorite recipes:
Pulled Pork Deviled Eggs
These are eggs-cellent for when you've made a crockpot of pulled pork and have leftovers you aren't sure what to do with. The best part? The pickled onions, obviously.
---
Beet and Avocado Deviled Eggs
The color of these eggs is to 'dye' for. The natural beet coloring and the green avocado topping makes us think we could get away with this recipe around the holidays too.
---
Smoky Little Devils
For the vegans among us, these are for you. Hummus and potatoes? What a creative way to emulate eggs.
---
6 Ingredient Easy Bacon Deviled Eggs
Pair the usual Dijon with mayo, whip the yolk into the egg white, and bam! A traditional yet delicious recipe.
---
Buffalo Blue Cheese Deviled
These eggs have an extra kick of protein using Greek yogurt as its base instead of mayonnaise, and a side of spice. Perfect for the hard to please.
---
Jalapeno Popper Deviled Eggs
These eggs are almost too pretty to eat…almost. The crisped pancetta to top them off is the perfect addition to these tasty treats.
---
Eggs Janette
Oh goodness. Fried deviled eggs!? And served with an egg dressing!? Holy yum.
xx, The FabFitFun Team