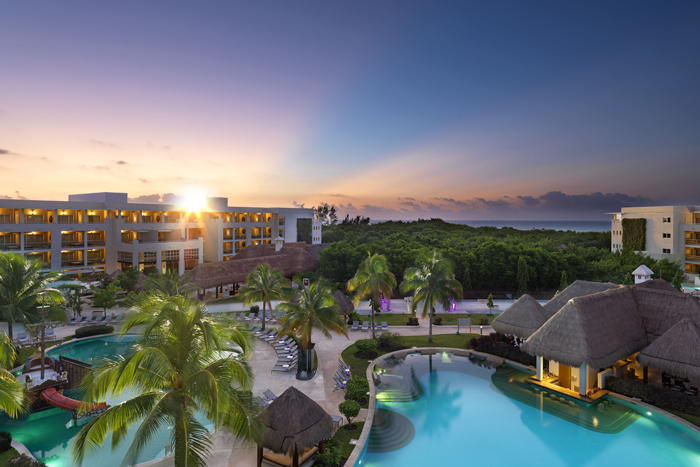 PARADISUS PLAYA DEL CARMEN GIVEAWAY
Official Rules
NO PURCHASE NOR FabFitFun MEMBERSHIP REQUIRED TO ENTER OR WIN, AND WILL NOT INCREASE YOUR CHANCES OF WINNING. YOU HAVE NOT WON YET.
These Official Rules apply to the FabFitFun Paradisus Playa Del Carmen Giveaway to be held from August 16, 2021 to November 15, 2021, with the official drawing to take place on or about November 20, 2021 (the "Giveaway").
By entering the Giveaway, you acknowledge that your information will be handled in accordance with FabFitFun's Privacy Policy, and you agree to be bound by these Giveaway Official Rules.  THIS INCLUDES YOUR ACKNOWLEDGEMENT OF AND CONSENT TO DISPUTE PROCEDURES (AS OUTLINED IN THE "DISPUTE RESOLUTION AND ARBITRATION AGREEMENT" SECTION BELOW) WHICH, WITH LIMITED EXCEPTION, REQUIRES YOU TO SUBMIT CLAIMS ARISING OUT OF OR RELATING TO THE GIVEAWAY THAT YOU HAVE AGAINST FABFITFUN TO BINDING AND FINAL ARBITRATION ON AN INDIVIDUAL BASIS, NOT AS A PLAINTIFF OR CLASS MEMBER IN ANY CLASS, GROUP, OR REPRESENTATIVE ACTION OR PROCEEDING.
Prize:

There will be one (1) prize which will consist of the following: (i) a Five (5) day/ four (4) night stay at Paradisus Playa Del Carmen, (ii) Two (2) Five Hundred dollar ($500) flight vouchers for two (2) passengers($1,000 total), (iii) $1,000 in credit for travel to and from the airport nearest the Resort (to be booked through the hotel at the time of booking), and (iv) Access for two (2) persons for the Yhi Spa Hydrotherapy. Trip must be taken within twelve (12) months of the date the winner is selected (Estimated to be November 19, 2021). Blackout dates apply and redemption is subject to availability. Blackout Dates Include: Christmas, New Year's, Easter, July 3-7, USA Thanksgiving, and September 15 -17. This prize is not valid in connection with any group or meeting. 
Redemption Instructions:

This prizeis valid for up to 1 year after the date the winner is selected. No date extensions will be honored. This prize is valid only if booked through the Alliance Connection team, by emailing madison@allianceconnection.com. Reservations must be requested at least fourteen (14) days prior to anticipated arrival date. Rooms are not confirmed until the winner receives an email confirmation from the Alliance Connection Team. The winner and guests may be required to provide appropriate government-issued photo identification (such as a valid passport) to travel. Sponsor is not liable for any expenses incurred as a consequence of travel cancellation/delay. The prize will be issued in the winner's name and is non-transferrable. The estimated retail value of the Prize is two thousand, four hundred and twenty two dollars ($2,422).
Eligibility:

Entrants must be at least the age of majority in their state, province or territory of residence, and must reside in the United States, the District of Columbia or Canada (Quebec province residents not eligible) to enter or win a prize. Employees of FabFitFun, its affiliates, or their respective advertising, public relations, accounting or legal firms, and immediate family members or individuals living in the same household of such employees, are not eligible to enter the Giveaway or win a prize. For purposes of these eligibility rules, "immediate family members" mean spouse, children, parents, parents of spouse, siblings, and spouse's siblings.
Additional Eligibility Requirements:

Prior to receiving any prize, the winner must provide FabFitFun with any information or certifications needed by FabFitFun, in its sole judgment, for tax reporting purposes. The winner also must complete, sign and return a declaration of eligibility and a waiver or release to be eligible to receive the prize. If you fail to satisfy these conditions within three (3) days after we send you notice that your entry has been selected, you will not be eligible for the prize and we will select an alternate winner as described in "Selection of Winners" below. Giveaway subject to all applicable federal, provincial, state and local laws. All decisions on eligibility will be made by FabFitFun and its decisions are final and binding. 
For Canadian Residents Only: Before being declared a winner, the selected entrant must first correctly answer, without assistance of any kind, whether mechanical or otherwise, a time limited mathematical skill testing question to be administered by telephone at a time mutually convenient for the entrant and FabFitFun or promotional agent of FabFitFun.
How to Enter:

You may enter by (1) posting to your publicly available Instagram or Twitter account a photo or video of any or all of the products included in the FabFitFun Fall 2021 Box, (2) tagging @fabfitfun and @paradisusplaya, and (3) using the hashtags #fabfitfun, #FFFGiveaway, and #embraceyournature on your post. All entries must be posted between 12:00 a.m. PT on August 16, 2021, and 11:59 p.m. PT on November 15, 2021 (the "Entry Period"). There is no limit to the number of entries per person; provided, however, that each post must be unique and automated generation of posts is not permitted.
Entering Without Membership or Purchase:

Non-FabFitFun-members are welcome to enter and no purchase of any kind is required to do so. Simply share any existing post or create a post using images of the FabFitFun Fall 2021 Box, and include the required tags and hashtags (as set out under "How to Enter" above) with your post.
Selection of Winners:

After the end of the Entry Period, a FabFitFun representative will select the winner by a random selection process. If FabFitFun determines that the person whose entry is selected was not eligible to enter the drawing, or if the person drawn refuses to accept the prize or fails to complete the eligibility requirements described in "Additional Eligibility Requirements" above, or if the person whose post is selected cannot be contacted or identified, FabFitFun will conduct a subsequent random drawing from all remaining eligible entries to select an alternate winner. The winner will be contacted via the method of entry (for example, direct message to their Instagram account if the winning entry is an Instagram post).
Third Party Intellectual Property: 

Any entrant who incorporates any intellectual property or material owned by a third party into his or her submission does so at his or her own risk.  If FabFitFun is notified that any element of an entrant's submission infringes upon the rights of another person, such submission may be disqualified from the Giveaway in FabFitFun's sole discretion.
Social Media Platforms:

This

Giveaway

is in no way sponsored, endorsed or administered by, or associated with Facebook or Twitter (each a "Social Media Platform"). Each entrant hereby releases the Social Media Platforms from any liability in connection with participation in this

Giveaway

.  All submissions must comply with the applicable terms of use for the Social Media Platform on which they are posted.
Giveaway Sponsor and Winner Information:

This Giveaway is sponsored by: FabFitFun, located at 700 N. San Vicente Blvd., 7th Floor- Green Building, Los Angeles, CA 90069. Except as limited by law, the names of winners will be available upon request, at no charge, by contacting FabFitFun at VIP@FabFitFun.com, or by sending a self-addressed stamped envelope to FabFitFun at the address above, Attn: Giveaway.
Additional Agreements/Waivers:

By entering the Giveaway, each entrant agrees (a) to be bound by these Official Giveaway Rules and to interpretation of these rules by FabFitFun and (b)that FabFitFun and its agents, affiliates, representatives, and employees will have no liability whatsoever for any injuries, losses or damages of any kind resulting from acceptance or use of the prize(s). Except as prohibited by law, each winner also consents, by entering the Giveaway and without further compensation, to FabFitFun's use and publication of the winner's name, photograph, likeness, biographical information, and details of winning for FabFitFun's advertising, promotional, or regulatory purposes.  Each winner also agrees that FabFitfun may provide the winner's

name, phone number, email address, mailing address and/or other information to third parties as needed to fulfill the prize(s).

Giveaway void where prohibited by law. In the event that the operation, security, or administration of the Giveaway is impaired in any way for any reason, including, but not limited to fraud, virus, bug, worm, unauthorized human intervention or other technical problem, or in the event the Giveaway is unable to run as planned for any other reason, as determined by FabFitFun in its sole and absolute discretion, FabFitFun may, in its sole discretion, either (a) suspend the Giveaway to address the impairment and then resume theGiveaway in a manner that best conforms to the spirit of these Official Rules, (b) terminate the Giveaway and, in the event of termination, award the prize at random from among the eligible, non-suspect entries received in such Giveaway up to the time of the impairment, or (c) in the case of any force majeure event including, without limitation, acts of God, war, government regulation or advisory, acts and/or threats of terrorism, civil disorder, fire, flood, explosion, earthquake, epidemic, pandemic, major accidents or other calamity or casualty, curtailment of transportation facilities, or any other cause or circumstance beyond FabFitFun's control, making it illegal or impossible to conduct the Giveaway, FabFitFun may terminate the Giveaway in its sole discretion.. FabFitFun reserves the right in its sole discretion to disqualify any entrant found to be tampering with the entry process or the operation of the Giveaway or to be acting in violation of the Official Rules or in an unsportsmanlike or disruptive manner. FabFitFun reserves the right to change, modify, or extend the Entry Period if it should be deemed necessary. Failure by FabFitFun to enforce any provision of the Official Rules shall not constitute a waiver of that provision.  Winner and Winner's guest must have a valid passport, identification and documentation to travel to Mexico. FabFitFun is not responsible for Winner's failure to obtain any required or requested documentation, identification or permission to travel to or from Mexico.
DISPUTE RESOLUTION AND ARBITRATION AGREEMENT
YOU AND FABFITFUN MUTUALLY AGREE TO WAIVE OUR RESPECTIVE RIGHTS TO RESOLUTION OF DISPUTES IN A COURT OF LAW BY A JUDGE OR JURY, AND AGREE TO RESOLVE ANY CLAIM OR DISPUTE AGAINST EACH OTHER ON AN INDIVIDUAL BASIS IN ARBITRATION, IN ACCORDANCE WITH SECTION 12 OF THE FABFITFUN TERMS OF USE AND SALE ("TOUS"). This will prohibit you and FabFitFun from bringing any class, collective, or consolidated proceeding against each other, and will also prohibit you and FabFitFun from participating in or recovering relief under any current or future such actions brought by someone else. Arbitration is more informal than a lawsuit in court: there is no judge or jury in arbitration; discovery in arbitration may be more limited than discovery in litigation; and court review of an arbitration award is limited.
YOU UNDERSTAND, ACKNOWLEDGE, AND AGREE THAT YOU AND FABFITFUN ARE EACH WAIVING THE RIGHT TO SUE IN COURT OR HAVE A JURY TRIAL FOR ANY AND ALL CLAIMS AND DISPUTES ARISING OUT OF OR RELATING TO THE GIVEAWAY, EXCEPT AS EXPRESSLY OTHERWISE PROVIDED IN SECTION 12 of the TOUS. 
12.12  Opt-Out. YOU CAN CHOOSE TO REJECT THIS ARBITRATION AGREEMENT ("OPT-OUT") BY EMAILING US AN OPT-OUT NOTICE TO GIVEAWAYARBITRATIONOPTOUT@FABFITFUN.COM ("OPT-OUT NOTICE") OR VIA US MAIL TO: FabFitFun, Inc., 700 N.San Vicente Blvd., Los Angeles, CA 90069, USA. THE OPT-OUT NOTICE MUST BE RECEIVED NO LATER THAN THIRTY (30) DAYS AFTER THE DATE YOU ENTER THE GIVEAWAY. 
In order to opt-out, you must include in your Opt-Out Notice your name, address (including street address, city, state, and zip code), and email address(es) or social media handle used to enter the Giveaway and an unaltered digital image or copy of a valid driver's license or government-issued ID which matches the name you provide. Each opt-out notice may opt out only one person; opt-out notices that attempt to opt out multiple people at the same time will be ineffective.  This procedure is the only way you can opt out of the agreement to arbitrate. If you opt out, all other parts of these Official Giveaway Rules and any other agreements between you and FabFitFun will continue to apply to you. Opting out of this agreement to arbitrate has no effect on any previous, other, or future arbitration agreements that you may have with us.
13.  Severability. If any provision of the Giveaway Official Rules is found to be unenforceable or unlawful for any reason, (1) the unenforceable or unlawful provision will be severed from these Official Giveaway Rules, (2) the remainder of the Official Giveaway Rules will be given full force and effect, and (3) severance of the unenforceable or unlawful provision will have no impact on the remainder of the Official Giveaway Rules.