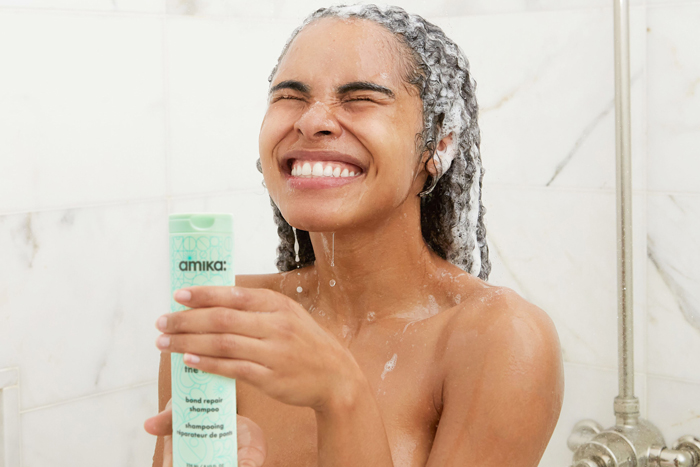 With so many incredible hair care products on the market, it can be difficult to decipher when to use what for maximum hair beautification — whether you have straight, wavy, curly, or coily hair. Luckily, we're breaking it down and making it really easy for you with the help of professional hairstylist Devin Toth.
"It's totally OK to cocktail your hair care products," he says. "It's important to try different combinations and ratios until you achieve the perfect regimen. It's always fun to try more of a product than you think you'll need to see what it's truly capable of achieving." Of course, there are nuances in every hair care routine depending on hair texture, strength, and styling preferences, but we wanted to share a general routine if you're looking to take your hair care routine beyond shampoo and conditioner.
So without further ado, keep scrolling to check out the recommended order to apply hair care products from start to finish featuring product recommendations from the Fall Box.
Step 1: Shampoo
Any good haircare routine begins with a regular wash. Simply cleanse your hair of any built-up product or oils for a fresh base.
Product Recommendation: amika The Kure – Bond Repair Shampoo & Conditioner Bundle
Step 2: Conditioner or Mask
After washing your hair, you'll want to add back in moisture so strands will look and feel healthier.
If you want to give your hair a little extra nourishment, Toth recommends using a masque once a week, in place of your standard conditioner. You'll want to choose your mask based on your hair's needs, whether it's to amplify color, boost shine or simply supply more moisture.
Product Recommendation: Fekkai Maskology Super Strength Treatment Masque or Fekkai Maskology Technician Color Treatment Masque
Step 3: Serums, Oils, and Creams
If you consistently deal with unwanted flyaways and split ends, you may want to add an extra styling step to your routine courtesy of conditioning styling products. "Always apply 'conditioning' styling products before 'hold' styling products," Toth explains. Of course, this should be applied to damp hair before drying to allow for absorption. "Oils, serums, and creams are meant to absorb into the hair shaft."
Product Recommendation: ALTERNA® Caviar Anti-Aging Replenishing Moisture CC Cream or Philip Kingsley Finishing Touch Polishing Serum
Step 4: Gel or Mousse
Once you've thoroughly conditioned your hair, you can start adding definition to curls or creating your desired hairstyle thanks to products with a little bit of hold. "Gels and mousses are meant to create a cast outside of the hair shaft," Toth explains. "So it's always important to use your absorbable products first before you create a barrier on the outside of the shaft with the 'hold' products." Though these are mostly applied to damp strands, you can use some gels on dry hair, too.
Product Recommendation: PATTERN Beauty Curl Gel
Step 5: Hairspray or Dry Shampoo
For that final hold, there's nothing more reliable than a good old-fashioned hairspray. However, if you haven't washed your hair in a few days you may start to notice oils building up at the roots, which means it's time to call in the dry shampoo for a little refresh. Toth explains that dry shampoos would be used in the same situation as hairspray due to their dry nature.
Final thought: You can embrace your natural hair while also playing around with different looks! "I believe you should always love your natural hair, exactly how it grows out of your head," Toth says. "I recommend using different hair care products and tools to maintain your mane and to change up your style."
xx, The FabFitFun Team
Psst! You can find the beauty products previously mentioned and more in the Fall Box. If you're not a member yet, sign up today so you don't miss out on seasonal boxes filled with the best products in beauty, fitness, and lifestyle, member-exclusive sales, and more. Use code GOODIESGALORE at checkout for $10 off your first box.
To get the most out of your box products, make sure to check out the Members Only page.