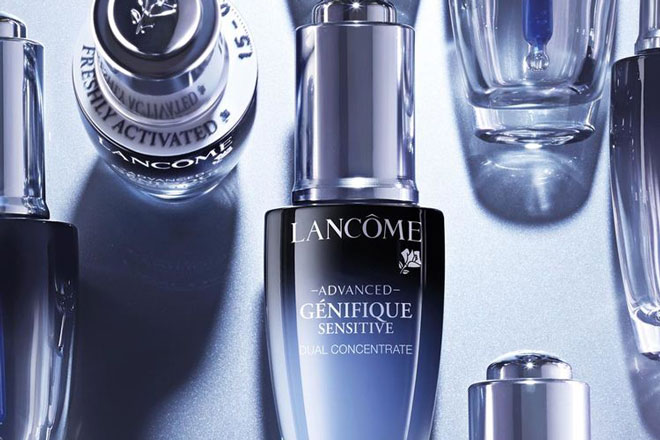 Feature Image by Lancôme
Whether you're 25 or 45, we always recommend incorporating an anti-aging serum into your skin care routine to treat wrinkles, tighten the face, and achieve that youthful dewy look. But with millions of products on the market, it can get a little overwhelming to choose the right one.
From seaweed to blueberries, the serums below are filled with amazing ingredients that are guaranteed to improve your skin and keep it looking fresh (and maybe even give you that J.Lo glow!).
Boost elasticity and smooth out uneven skin texture with this potent formula featuring turmeric. This serum features Clarins' innovative dual technology, which combines water and oil-soluble anti-aging plant extracts to effectively target lines and wrinkles. Plus, you can adjust the pump to dispense the amount you desire.
---
Treat and protect your skin with this dual antioxidant serum. The soothing base of centella asiatica calms skin while protecting against pollution, infrared radiation, and UVA rays. It also includes ferulic acid and vitamin E to help strengthen and improve the complexion of your skin over time.
---
Looking for overnight results? Dab a little of this filler cream on your face right before bed for instantly bouncier skin the next morning. It's jam-packed with hyaluronic acid to provide intense moisture and restore fullness for fresher, softer skin.
---
Clinique's patented technology offers a customized solution to your skin problems — and combined with collagen-boosting ingredients and brightening botanicals, it can't be beaten. Use it twice a day for visible improvements on lines, wrinkles, uneven skin tone, and dark spots.
---
Turn back the clock on some of those lines the natural way with this potent serum that contains cold-pressed buriti fruit, papaya seed, and rosehip oils. It also helps combat free radical damage and boost hydration with pomegranate seed and extracts of starflower and seaberry.
---
By increasing cell turnover with SkinCeuticals' patent-pending formula, this serum promotes skin renewal and strengthens the skin's moisture barrier to get that natural dewy look (no makeup necessary!).
---
One pump is all you need to reduce the appearance of fine lines and wrinkles. The serum features hyaluronic acid, red algae, and camellia japonica oil to stimulate collagen production, improve skin's firmness and elasticity, and retain moisture.
---
Estēe Lauder doesn't play around when it comes to skin care. Their anti-aging serum dramatically reduces lines and wrinkles so your features are more defined. No one has perfect skin, but you can come pretty close with this little guy.
---
The name of this serum speaks for itself. The lightweight formula has a blend of antioxidants and peptides to target the first signs of aging early on. Simply apply the serum to smooth out lines and brighten your skin when you think all hope is lost.
---
We will most certainly say yes to blueberries if it results in youthful skin. Antioxidant-rich blueberries and black currant create a blend that helps nourish and soothe skin.
xx, The FabFitFun Team