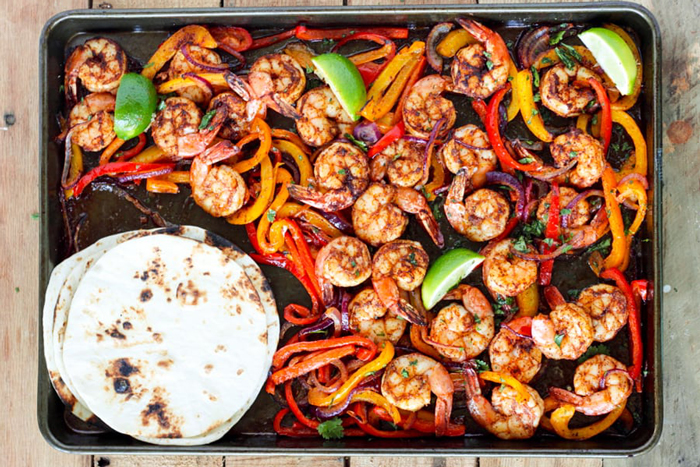 Feature Image by www.number-2-pencil.com
Cooking an impressive dinner doesn't have to mean sacrificing your entire evening. Don't believe it? Let us introduce you to one-pan dinners: the ultimate solution to preparing the perfect meal — little effort required!
There are plenty of sheet pan dinner ideas to fit just about every dietary lifestyle. That includes plant-based eaters, pasta-loving carboholics, meat lovers, and everyone in between. Ahead, we've done the research to uncover ten easy sheet pan dinners that are so easy, you'll want to make them over and over again.
Behold the easiest and most convenient way to make restaurant-quality pasta. Simply throw a package of store-bought gnocchi onto a sheet pan and add in vegetables for a finished result that makes it look like you put in serious work.
---

Bring this drool-worthy meal to life in just 20 minutes. Toss shrimp and thinly sliced bell peppers onto a pan and while they're cooking, quickly warm up tortillas on the stove.
---

Ordering chicken and broccoli from your local delivery spot is awesome and all, but you don't want to sleep on this delish (and easy!) recipe featuring chicken tenders and veggies coated in homemade honey garlic sauce.
---

Perfect for family fajita night, this vegan recipe is the ultimate combination of healthy and fun! If chickpeas don't do it for you, they can be swapped out with a different kind of bean.
---

Pair this plant-based dinner with sliced avocado and top it with vegan aioli or tahini-miso dressing if you want to take the deliciousness to the next level.
---

Not only does this make an excellent family dinner, but it's also perfect for meal-prepping. Depending on your palette's preferences, you can easily tweak this recipe with different types of potatoes, veggies, and meat.
---

Prepare to fall in love with this easy-to-make salmon dinner. The veggies require a little bit of a head start before you add salmon onto the sheet pan, but don't worry — you'll still have a solid amount of downtime while all of it's cooking.
---

For nights when an actual dinner just isn't going to happen, these loaded nachos need to be on your radar. Whether it's movie night with friends or a cozy party of one, this sheet pan recipe will never, ever disappoint.
---
This impressive meal looks like so much more work than it actually is. The key is to arrange your three main ingredients on the sheet pan so that all of your ingredients absorb the flavor.
---

OK, this one requires a little extra work, but it's so worth it in the end. For best (and faster) results, prep the tofu a day before making the recipe so that it has time to marinate.
xx, The FabFitFun Team