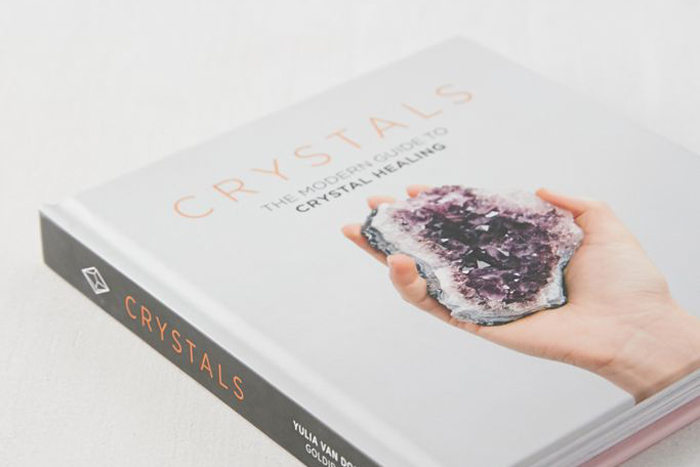 Feature Image by Urban Outfitters
Think about stunning hotel lobbies, gorgeous hair salons, and the coziest coffee shops. What's one thing they all have in common? Coffee table books, of course. These larger-than-life hard-bound books take the shape of a textbook but are anything but boring.
With topics spanning from art and cuisine to fashion and astrology, coffee table books are quite possibly the easiest way to add a little extra intrigue to any room. So, if you've been looking for ways to add that certain je ne sais quoi to your space, you know what to do. We've rounded up 10 of our favorite coffee table books — check them out below.
One look at this bubblegum-pink coffee table book and your guests will want to flip through it for hours on end. After all, don't we all want to discover answers from our higher selves?
---
If you've been spending your time in quarantine dreaming of far-off places, you need this coffee table book in your life. Within its pages, you'll find 1,000 adventures to embark on once COVID-19 is a worry of the past.
---
Ever wondered about your compatibility with your loved ones? This book outlines how to approach and improve the relationships in your everyday life, all with astrology at the forefront.
---
Not only is this book about women in art, but its pages alone are works of art. The ultra-colorful, beautifully-illustrated book features 50 female artists who inspired the world we live in today.
---
While this book isn't technically a coffee table book, it's undeniably a book that will add intrigue (and style!) to your coffee table. Now, if only we could all master the art of resistance.
---
As the saying goes, good girls never make history. And that's precisely why this book focuses entirely on the bad girls who did. Lay it out and let your guests learn about 100 remarkable women who helped shape the world as we know it today.
---
Whether you're craving an empowering female voice in your life or you're simply searching for new perspectives, this coffee table book will be a treat for your home. It features advice from over 100 female creatives and entrepreneurs, all with the hope of inspiring you to tackle your next big thing.
---
ICYMI: A crystal craze has been taking the spiritual and wellness worlds by storm. This book will teach you why each beautiful stone can offer far more than its looks.
---
Photography fans, this one is for you. If you're unfamiliar with Stahl's work, you can expect page-upon-page of candid portraits of some of the biggest names in music. It's a treat, to say the least.
---
Have you ever wondered why leaves are shaped differently? Why the sky is blue? This 152-page book will help you uncover some of nature's greatest mysteries with the help of fun, colorful illustrations.
---
Sure, inspiring words by some of the world's most influential women is great, but what about cocktails to embody them? This book features dozens of cocktails based on famous women, along with a brief history lesson on each.
---
Speaking of cocktails, how about a bevy inspired by some of the world's greatest books? This book showcases 65 drink recipes, including mixes inspired by Romeo & Juliet, The Last of the Mohicans, and more.
---
Known for her no-nonsense wisdom, dazzling beauty, and one-of-a-kind humor — not to mention an angelic singing voice — Dolly Parton has everything it takes to entertain. This is precisely why this book based on the country phenom is a great option for your coffee table.
---
Wish you could be BFFs with The Golden Girls? With this book, you'll have access to all of Dorothy, Rose, Sophia, and Blanche's best life wisdom.
---
Hoping to stump your guests with some truly off-the-wall facts? This book, which is comprised of 500 insane facts, will certainly do the trick.
xx, The FabFitFun Team