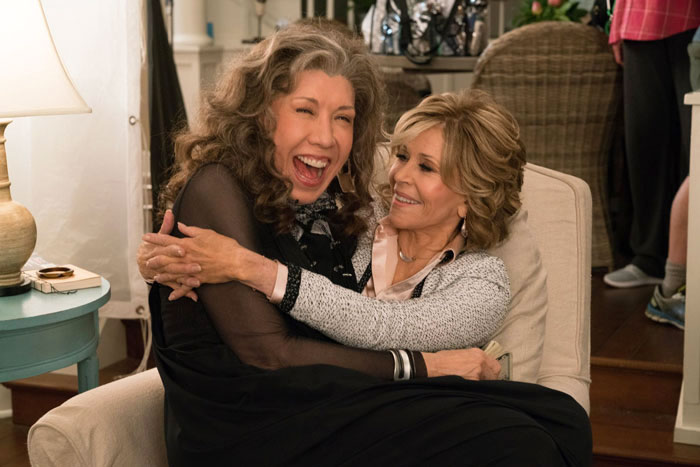 Feature Image by Grace and Frankie
As Netflix continues to roll out new waves of movies and TV shows, we're making it easy to spot the binge-worthy ones with a round-up of our fave releases.
From classic rom-coms to fresh seasons of Netflix originals, check out the top titles you should add to your queue ASAP. Trust us, you're going to want to schedule in some couch time.
Bring It On
Throw it back to the cheerleading movie that started it all. When Torrance Shipman finds out her entire high school cheerleading career was based on a lie, she does everything it takes to prove their squad has what it takes to win big. Psst…the entire Bring It On franchise is available to stream on Netflix now.
---
Breakfast at Tiffany's
Like Audrey Hepburn and Tiffany & Co., this movie will never go out of style. We recommend eating breakfast in bed while watching this 1961 film as Hepburn tries to woo her new apartment crush without having her past crash down on her in the process.
---
Caddyshack
This 1980 comedy is a classic, and will make you chuckle from beginning to end. It stars Chevy Chase, Rodney Dangerfield, and Bill Murray amongst others and is all about an exclusive golf course with annoying members, hilarious golf attire, and, of course, that pesky gopher.
---
The Godfather
If you haven't seen all three of the gangster films, then now is the time. The Godfather follows the Corleone family as they must shift their power from the patriarch to the sons. If you're already a big fan of the films, then having them on Netflix is just another excuse to watch them on repeat.
---
How to Lose a Guy in 10 Days
Kate Hudson and Matthew McConaughey make the perfect couple in How to Lose a Guy in 10 Days despite the fact that their characters are together for two very different reasons. Andie Anderson (Hudson) is trying to get a man to break up with her for her latest "how-to" column, while Ben Barry (McConaughey) is trying to have a woman fall in love with him to win a key account at work. It's a must-watch if you love a good rom-com.
---
Love Actually
For those of you who aren't quite ready to let go of the Christmas spirit, we suggest you watch Love Actually ASAP. The British film, which features massive stars including, Emma Thompson, Liam Neeson, Hugh Grant, Keira Knightley, and more, follow the love stories of numerous English people during the holidays. The best part is that you actually get to see that "love is all around us."
---
Lovesick (Season 3)
Lovesick started out as a British series before it was picked up by Netflix. The show follows Dylan (Johnny Flynn) as he begins contacting each of his former partners after finding out he has chlamydia. Along the way, he learns that he can only really lean on his two best friends, Evie (Antonia Thomas) and Luke (Daniel Ings). It's funny, a bit raunchy, and yet totally lovable.
---
Comedians in Cars Getting Coffee
Jerry Seinfeld's hit series is now on Netflix. Just as the title suggests, watch Seinfeld drive around in cars with comedians and actors while getting coffee.
---
Grace and Frankie (Season 4)
Get excited Grace and Frankie fans. The Netflix original has an all-new season heading your way this month. After Grace (Jane Fonda) and Frankie (Lily Tomlin) learn that their husbands are in love with one another, they pretty much have a meltdown, which results in both of them living together — despite their distaste for one another.
---
One Day at a Time (Season 2)
The second season of One Day at a Time is dropping on January 26. The reboot focuses on three generations of a Cuban-American family who live together under one roof. Penelope (Justina Machado) is a newly single mom and veteran who gets her mother Lydia (Rita Moreno) to help her raise her children along with their building manager Schneider (Todd Grinnell).
Which January Netflix release are you most excited to watch? Let us know in the comments below!
xx, The FabFitFun Team