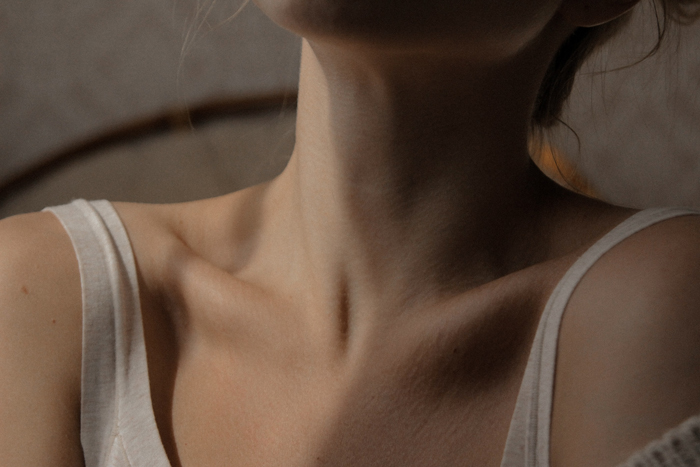 Feature Image by @elizabetastrelkova
If you made skin care a resolution for 2021, it might interest you to know that neck creams have been trending in the beauty industry.
"It's no surprise that neck creams are gaining in popularity," says board-certified dermatopathologist Michelle Hure, owner of OC Skin Lab. "The areas more likely to show our true age — the neck, chest, and hands — are bound to need attention as well."
The neck, in particular, faces some unique challenges, like sensitivity, thin skin, and sagging. "The skin on the neck is thinner and has [fewer] oil glands, so neck creams are typically thicker," says triple board-certified dermatologist, internist, and dermatopathologist Mamina Turegano, M.D., FAAD. You should incorporate neck creams into your routine to help prevent and minimize wrinkles and creasing attributed to "tech neck" — the fine lines that develop and deepen due to our habitual glances down at our cell phones, tablets, and other electronic devices.
"You want to look for ingredients that can moisturize, lift, protect, and stimulate collagen and elastin production." For wrinkles and creasing, she recommends peptides, hyaluronic acid, and ceramides, as well as antioxidants like niacinamide, warning that glycolic acid, retinol, and even vitamin C can be irritating to sensitive skin in the region. Hure reminds us to always wear an SPF 30+ sunscreen on the neck as well.
If you'd like to get on board the anti-tech neck train, here are 10 neck creams to consider adding to your beauty shelves.
Check out the research-backed benefits of a new active ingredient called defensins — peptides that stimulate your skin's stem cells and enhance cell renewal — which can be found exclusively in this neck cream by DefenAge®. Clinical trials show that you can expect a thicker, renewed epidermis, improved elasticity, and hydration, and a visible reduction in wrinkles, creasing, discoloration, and more.
---
"[This pick combines] microbiome technology, smart antioxidant technology, and eight wrinkle-firming peptides," says board-certified dermatologist Jeannette Graf, Assistant Clinical Professor of Dermatology at Mt. Sinai School of Medicine, of this antidote for crepe-y skin on the neck. "It also has a firming [and soothing] feel when applied to the skin."
---
In another new launch, crushed diamonds, fruit enzymes, vitamins A, C, and E, and a BioActive complex containing peptides, hyaluronic acid, and fermented vitamin B9 are applied to the neck via a rose quartz applicator. The line is known for its incorporation of clinical actives and organic ingredients — and we are all about crystal beauty gadgets.
---
For green beauty fans, you'll love this top-selling neck serum with herbs, hydrating aloe, astringent witch hazel, minerals, jojoba oil, spirulina,  and more. It's a potent feast of skin nutrients delivering nature's potency in a clean and efficient, water-free formula. If you prefer a lighter consistency than thick creams or balms, consider this smoothing serum.
---
For ample hydration before heading to bed, consider this sleep mask for the neck and chest. Along with potent moisturizers including shea butter, coconut oil, and mango butter, the vegan and cruelty-free brand includes small amounts of the organic adaptogen ashwagandha, hyaluronic acid, and vegetable collagen to keep moisture locked in.
---
Celebrity makeup artist Spencer Barnes developed his neck- and jawline-sculpting wand with collagen-boosting ingredients including a proprietary fat-melting complex of extracts, Swiss alpine rose stem cells, vitamin C, and squalane.
---

In just one week, this superfood-enhanced neck cream — containing liquid crystals, fruit oils, flaxseed, and Swertia Chirata extract — has been shown to begin smoothing away wrinkles and crinkles.
---
Here is a hydrating, antioxidant-packed, collagen-promoting powerhouse from an esthetician-beloved line. It features Matrixyl morphomics to minimize wrinkle length and depth, edelweiss extract to help restore elasticity, and bidens pilosa extract to reduce wrinkles by 28% and increase dermal density by 25%.
---
For a two-part neck care regimen, first reach for the serum, which contains peptides, botanicals, antioxidants, and barrier-restorative lipids. Then smooth on the moisturizer over it, featuring tightening acetyl tetrapeptides and Peruvian tara gum, plumping hyaluronic acid, Swiss apple stem cells, squalane oil, and a protective amino acid known as ectoin.
---
Hure recommends this clinically-backed blend of peptides, vitamin E, shea butter, hyaluronic acid, and sweet almond oil. Have patience — visible results grow over time, becoming evident after one month, and even more so after three.
xx, The FabFitFun Team