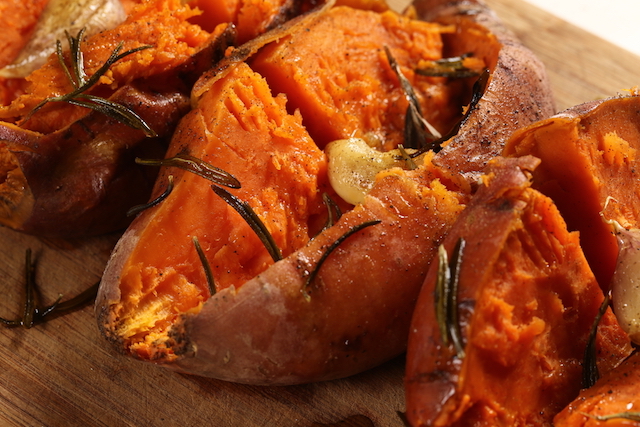 Tomorrow is National Garlic Day!
We love garlic…like really love garlic. We love garlic so much, that we aren't afraid of eating them roasted whole. (As long as we have a pack of gum around.) The pungent bulb doesn't just bless everything it touches with extremely delicious flavor, but it's also known to be quite healthy due to its anti-inflammatory and anti-bacterial qualities.
Feeling lazy and want to whip something up with little effort? This recipe was created just for that! In fact it's so easy, you really have no excuse not make it. Let the oven do the work while you sit back and relax.The caramel flavors from the roasted sweet potatoes pair magnificently with the spiciness of the garlic, and herbal notes of the rosemary — so don't worry about the flavors clashing in this simple, tasty dish!
ROASTED GARLIC ROSEMARY SWEET POTATOES
Ingredients
3-4 sweet potatoes, punctured
7 cloves of garlic, peeled and left whole
2 tablespoons extra virgin olive oil
1 ounce of fresh rosemary, stems removed
2 teaspoons of garlic powder
Salt and pepper to taste
Directions
1. Preheat oven to 400 degrees Fahrenheit.
2. Line a baking sheet with aluminum foil, and place the sweet potatoes evenly on sheet. Place the garlic cloves on sheet near potatoes.
3. Drizzle the olive oil evenly on the sweet potatoes and a bit on the garlic cloves.
4. Add the salt, pepper, rosemary, and garlic powder over the potatoes.
5. Place the sheet in oven and bake for 30-40 minutes, until the potatoes are tender and can be easily punctured through with a fork. Note: the longer you bake the potatoes the sweeter and more caramelized they become.
xx, The FabFitFun Team