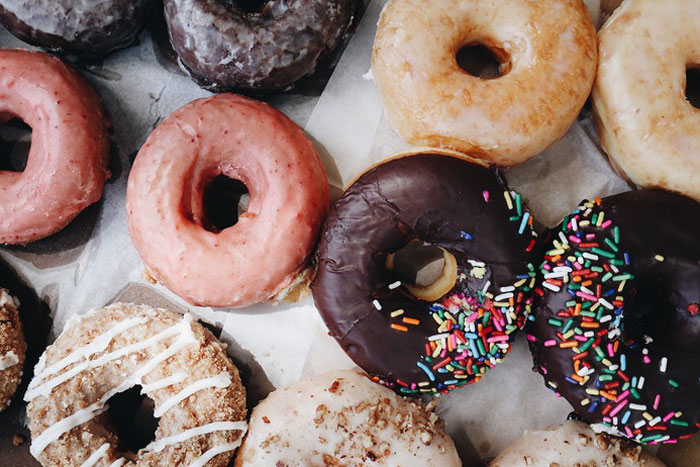 Feature Image by Anna Sullivan
Picture this – you walk into a doughnut shop, eager to pick up a dozen doughnuts to satiate the cravings of all your co-workers and win you some serious points on National Doughnut Day (November 5).
From sprinkles and chocolate to jelly-filled and glazed, here are the best donuts for each zodiac sign (aka the perfect dozen).

Aries (March 21 – April 19): Jelly Filled
This standout donut is much like the leader of the zodiac. Aries rarely does anything plain or bland, and this classic choice is bursting with flavors.
---

Taurus (April 20 – May 20): Maple Bacon
Taurus doesn't treat herself to a doughnut on the daily, so when she does, it has to be the most indulgent one on the menu. A maple bacon checks off all the doughnut boxes: a little savory, a little sweet, and a lot of dough. Plus, it's a specialty doughnut, which is very much aligned with the Taurus mentality.
---

Gemini (May 21 – June 20): Boston Creme Filled
Enthusiastic and full of life, Gemini is not one to pick a simple doughnut – she wants her doughnut to be a conversation starter, one that keeps the line between breakfast and dessert ever so fine that some may think she's crazy. The only doughnut that can keep up with her wild dreams? The Boston cream-filled doughnut.
---

Cancer (June 21 – July 22): Glazed
A glazed doughnut will never let you down…a glazed doughnut understands! And so does Cancer, the most nurturing sign of the zodiac. Cancers take comfort in the familiar and there's nothing more classic than a freshly-baked glazed doughnut.
---

Leo (July 23 – August 22): Cronut
Leo would never settle for a regular doughnut – that's far too predictable. Instead, she picks an ultra trendy (and very decadent) cronut. Yes, that's a croissant-donut hybrid.
---

Virgo (August 23 – September 22): Maple
Some people may call maple a safe choice, but maple is packed with flavor that only a true perfectionist understands. Enter Virgo, the modest and unassuming sign with impeccable taste in dough.
---

Libra (September 23 – October 22): Sugar Twist
A sugar twist is Libra in doughnut form: not too sweet and not too salty. This perfectly-balanced pastry treat is a crowd-pleaser and that twisty dough design can charm just about anyone – much like a Libra!
---

Scorpio (October 23 – November 21): Devil's Food
Mirror mirror on the wall, who's the richest doughnut of them all? Devil's food, of course! This double chocolate treat is perfect for the most passionate sign of all.
---

Sagittarius (November 22 – December 21): Doughnut Holes
Sagittarius is among the zodiac's most generous, so instead of taking a single doughnut for herself, she opts for shareable doughnut holes. It comes in a variety of flavors (which is great for her adventurous palate) and is meant to be taken to-go – a fit for her mobile lifestyle.
---

Capricorn (December 22 – January 19): Old-Fashioned
Capricorn likes her doughnuts like she likes her life…by the books! There's only one doughnut that's as sensible and timeless as she is, the old-fashioned. The practical choice complements a cup of coffee (make that two cups) just perfectly.
---

Aquarius (January 20 – February 18): Vanilla Cruller
A vanilla cruller is arguably the most underrated doughnut of all time. Its base isn't dense but light and fluffy with a delicious sweet glaze. Like Aquarius, it's unique! This doughnut stands out from the crowd and is always a pleasant surprise.
---

Pisces (February 19 – March 20): Sprinkles
What's more Pisces than a sweet treat doused in colorful bits of sugar?! Pisces is imaginative, kind, and a friend to everyone she meets – kind of like a sprinkled doughnut. A fun-loving doughnut for a fun-loving gal!
Which doughnut are you celebrating National Doughnut Day with? Let us know in the comments below!
xx, The FabFitFun Team