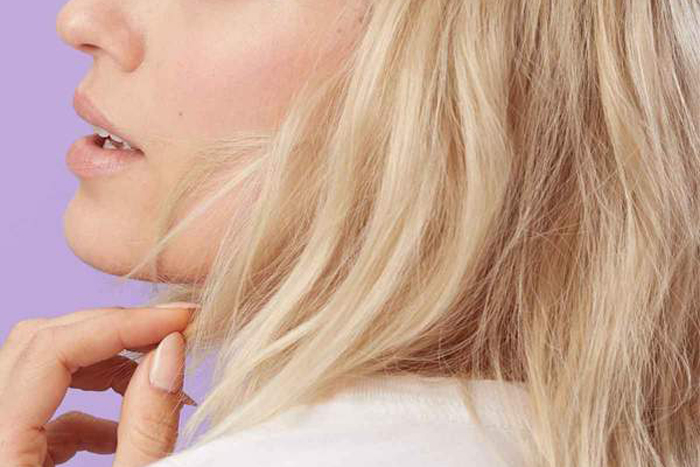 Feature Image by Verb
In contrast to the dozens of skin care products overflowing cabinet shelves everywhere, hair care can seem like a less complicated beauty ritual — but no less important. It's no surprise then that the popular multi-masking trend — a masking approach that targets specific beauty concerns in one go — took off in skin care first, but is no doubt just as relevant for admittedly overprocessed, heat styled, and oily hair.
Multi-masking in the latter case refers to targeting the hair's many nutrients and damage at once by applying two or more masks at the same time. Ahead, we break down more specifics behind the trend, how to put it to use, and some must-have products for each section of the hair.
What is multi-masking?
Multi-masking, as the name implies, is the process of applying multiple treatments to the hair, and makes it easy to target every concern from top to bottom in just one sitting. With multiple products at work, multi-masking hits everything from coarse ends to oil-prone roots.
What kind of masks should you use?
Deep conditioning treatments rich with ingredients like shea butter and coconut oil are great for dry hair ends and midsections, with options also available specifically for color-treated hair. At the same time, freshly grown roots and finer hair types are prone to excess oil and sebum production, which makes thinner cleansing and exfoliating masks their go-to, some specially designed for the scalp.
How can you try it at home now?
Multi-maskers should choose their products first following the general rule that oily hair sections require something lighter and clarifying versus frizzy and overworked hair will need heavier conditioning for an extra dose of hydration. For the scalp, it can be useful to break apart buildup by scrubbing the mask deeply into the roots and adjusting the hair part for all-over exposure. Some experts also recommend applying with a tint brush. Next, generously apply a creamy formula to the ends, making sure to comb it through every strand either with your fingers or a wide-tooth comb. Let it all rest for 10-20 minutes for the perfect balance of hair rejuvenation.
Eager to give it a try? Check out our top mask picks below.
Take back control with this cult-favorite brand's scalp treatment that soothes the hair's overactive oil production back to even harmony. Active ingredients include argan and ginger oil for refreshed roots that won't fall flat.
---
The French hair mogul continues to make his mark with this in-demand cleansing mask, which is great for dry and damaged tresses. Scrub it into damp hair, applying more water as needed to work into every strand.
---
This all-natural mask is rich with coconut oil and shea butter for an intense deep conditioning experience.
---
A simple formula mask that won't break the bank! Sunflower seed revitalizes color-treated hair, while violet and acai extract give it added moisture and that purple hue all too familiar to blondes.
---
This zero-waste hair mask is calling out for hair junkies near and far. Whether color-treated or overstyled, hair will get a boost of soft volume and that sought-after shine.
xx, The FabFitFun Team