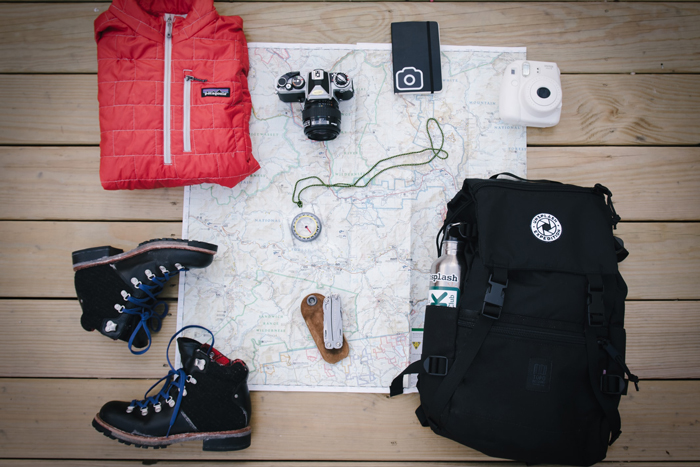 When you think of camping, in addition to sleeping on the ground, going on hikes, and being surrounded by nature, you may also automatically think of an ultra-neutral color palette. And, hey, it makes sense. Many camping garments and gear — think sleeping bags, tents, blankets, outdoor speakers, bags, boots, and everything in between — are some shade of black or brown. While there's absolutely nothing wrong with that, as fashion-forward folks, we can't help but crave a little color.
If you feel the same, you'll be stoked to know that we rounded up 10 pieces of stylish camping gear. So, what're you waiting for? Keep scrolling for what's sure to be a fun online shopping sesh.
Whether you're backpacking or headed on a long-weekend camping trip, you'll be glad to have this bag on hand. With convertible straps, it can be worn as a backpack or messenger bag and features endless pockets to organize clothing, toiletries, supplies, and more. For reference, it's about the size of a large laptop backpack, but it packs so much more than you'd think from looks alone.
---
Instead of carrying a super heavy backpack on your camping trip, tote around your essentials in this adorable buffalo plaid number. We can attest to just how well they work for carrying flashlights, first aid kits, water, snacks, and more. And, if you're a light packer, you can even fit a warm outfit or two.
---
Even for camping trips where hiking isn't at the forefront, having a pair of sturdy, cushioned, waterproof boots is still necessary. While these aren't the best choice for long treks, they're wonderful for on-site adventures and they're sure to keep your feet dry and warm.
---
If you do, however, plan to partake in some serious hiking, packing these brightly-colored boots is a great idea. Not only are they lightweight, breathable, and waterproof, they're also made with ample shock absorption for extra stability on the trail.
---
We're living for this '70s-inspired, sherpa-lined down blanket. It's arguably one of the biggest must-haves on chilly camping trips. Trust us, you won't regret clicking "add to cart."
---
One of the best parts about camping is posting up — literally — between the trees. With this wide hammock, you'll be able to swing in total comfort while embracing one of the season's prettiest colorways: peacock green.
---
Hoping to sleep in your hammock? That can get pretty chilly if it's not spring or summer. Luckily, this hammock-compatible down sleeping bag encases the hammock for warm sleeping from all angles.
---
If you're worried about discomfort from sleeping on the ground, this sleeping bag is so comfy and will keep you warm all the way down to 20 degrees.
---
In addition to being super spacious, this colorful tent is designed to block out sunlight so you won't wake up at the crack of dawn every morning of your trip.
---
Available in a bunch of fun colors, this speaker is a camping must-have. It's easy to carry around thanks to its clip-on design and has up to 10 hours of play time. Did we mention it's waterproof?
Have you gone camping recently? Tell us about your experience below!
xx, The FabFitFun Team