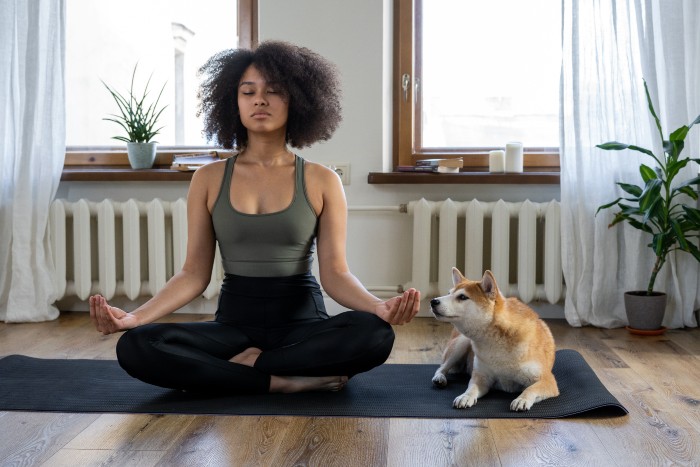 If you're new to meditation or want to find a way to stay more consistent with your mindfulness practice, meditation apps can help. Even though meditation is a calming activity, sometimes the thought of getting started can (ironically) bring on a lot of stress. Meditation apps are designed to help guide you, whether you're totally new to meditation or if it's already a part of your practice.
Here are the top ten meditation apps you should try to help keep you calm and happy throughout 2021.
Headspace
Headspace is one of the most well-known and highly-rated meditation apps out there—and for good reason. While the whimsical illustrations alone are enough to bring on a sense of calm and happiness, the app provides quick meditations, breathing exercises, and nightly wind-down practices for better sleep.
Calm
The name of the app says it all. To help promote a better sense of calm, the app is filled with meditations geared towards particular feelings like anxiety, stress, and more. You'll also find walking meditations, body scans, and Sleep Stories to help you transition from the hustle and bustle of daily life into restful, revitalizing sleep.
MyLife
Sometimes you're feeling a certain way but can't quite pin down what that particular emotion is–let alone what you should do to feel better. With MyLife, you answer a few quick questions to identify your current emotional state and the app recommends a few guided meditations that may benefit you most at the moment. You can also track your mood and overall progress within the app with daily check-ins.
Shine
Shine is an overall mental wellness app that has guided meditations and mindfulness exercises to get you through the day. You'll get Daily Shine meditations that come with a motivational message, three quick meditations for the morning, afternoon, and evening, and more. If you want to incorporate more mindfulness into your daily routine, Shine can help.
Aura
When you're too busy to meditate is when you need meditation the most. But, there are just some days when you don't have much time to spare. Aura excels at providing you with quick bursts of mindfulness and calming meditations that are short as 30-seconds to three minutes. There are moments where feelings of anxiety can quickly take over—like right before a job interview or first date—and all it takes is a couple of minutes to recenter yourself.
Buddhify
Whether you're completely new to meditation or it's already a part of your daily practice, you can probably find a guided meditation that's suited for you with Buddhify. Over 200 meditations are grouped into categories where you can choose one based on what you're up to, such as taking a work break or struggling with falling asleep. Meditations range from short, three-minute sessions to 40-minute practices.
Unplug
Sometimes you just need to take five and unplug. This app offers plentiful guided meditations to help you do just that. If you prefer to self-guide your own meditations, it also comes equipped with unobtrusive timers and calming, ambient sounds you can play during a self-guided meditation.
Ten Percent Happier
If you're new to meditation or skeptical of whether or not it's for you, then Ten Percent Happier can help you form a solid foundation. The app is based on the New York Times best-selling book by Dan Harris, and it connects you with expert teachers who coach you through the basics of meditation. The app aims to teach meditation in a fun, easy, and low-pressure way.
Insight Timer
With hundreds of thousands of positive reviews and an average 4.9 rating in the Apple and Google Play Store, it's safe to say that Insight Timer has built somewhat of a cult following. Users love Insight Timer for its library of over 70,000 free meditations and music tracks—and they're constantly adding new content daily. You'll never run out of guided meditations to try out, and Insight Timer's seven-day free course that teaches meditation basics is a great tool for beginners.
Sattva
If meditation has been a part of your regular practice, Sattva is a great app to dig a little deeper into your practice. The Sattva app draws from traditional Vedic principles of meditation, and it also has a library of sacred sounds, chants, and mantras by Sanskrit scholars. While it's a tool for mental wellness, it also helps measure and track your physical health with a heart rate monitor and mood tracker.
If you're ready to start reaping the benefits of meditation, like increased focus, reduced stress, and better sleep, give one of these apps a try. As always, we're rooting for you.
xx, The FabFitFun Team