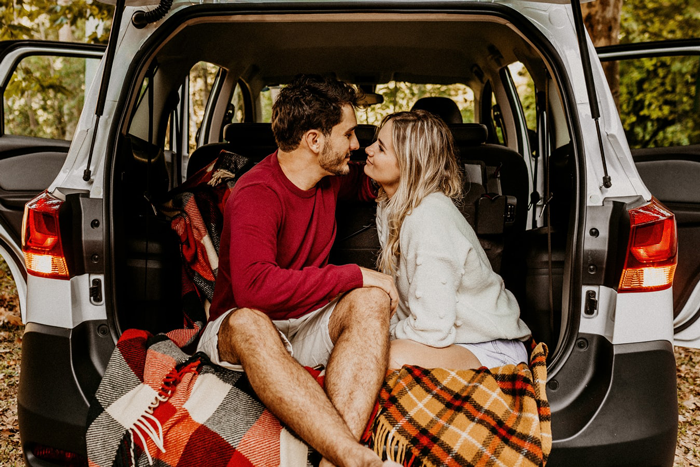 Feature Image by
Jonathan Borba
Valentine's Day is coming up, and you know what that means. Aisles of heart-shaped chocolate boxes, an abundance of pink and red in retail marketing, an increase in floral and jewelry sales and oversized teddy bears greeting you at the entrance of every store. Last year alone, according to the National Retail Federation, Americans spent an average of $20 billion on Valentine's Day items – and spending only continues to rise for the day of love. 
While most people lavish their loved ones with cliche gifts on Valentine's Day, the day doesn't have to be just chocolate, flowers and a nice dinner (although there's nothing wrong with that).
If you're looking for a less conventional route this February 14, then here are few unique date ideas:
Go outdoors and get active
In a lot of cities, the weather on Valentine's Day may be cold, but don't let this impede you from going outside. Layer up and go for a morning hike and set up a picnic for lunch afterward. If you're looking to spend a little more money and time, then you could even take the day to go snowboarding or skiing. Maybe look into hot air ballooning if weather permits. Use Valentine's Day as an excuse to be adventurous with the one you love and break a sweat. 
Take a weekend trip
Instead of wining and dining at your usual dinner spot, pack your bags and hit the road! Use the day to take a mini excursion. Perhaps there's a national park you've always wanted to see, a winery you've been dying to check out or a beach that is within a few hours drive. Travel to a new locale and make this day about creating new memories with the one you love.
Sign up for a group class
Pick an activity that your significant other loves or has an interest in. You could take a salsa dancing class, ceramics, cooking or indoor rock climbing. The options are endless, but at the end of the day, the idea is to have fun! This is also a great chance to learn a new skill or craft together. Embarrassing and silly moments make for great bonding time.
Record your love story
This is probably the most simple yet sincere gift you could ever give – vulnerability. Together, the two of you can write your love story and create a memory album to keep for years to come. Get creative! Buy a photo album and decoration supplies. Make an activity out of it. You both can write down how you feel about each other, your favorite memories and your take on how you first met. In between these pages, place fun photos throughout the album. Put your imagination to good use on how to express your love for your significant other in the most personal way.
xx, The FabFitFun Team