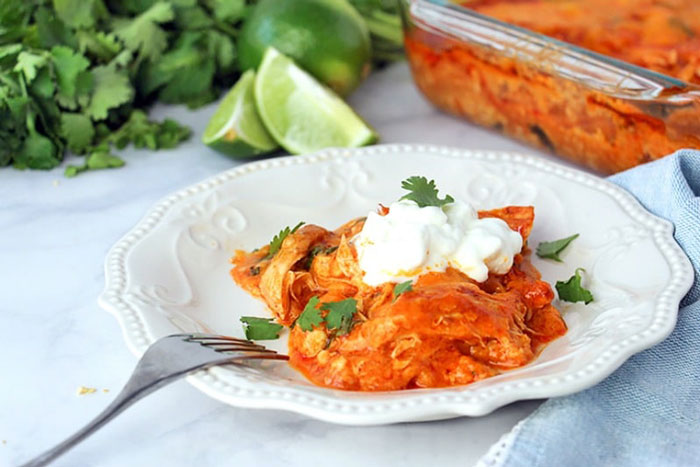 Feature Image by 730sagestreet.com
You've probably heard about the keto diet by now. The popular diet trend (also known as the low carb diet) works by producing ketones in the liver to be used as energy. When glucose is in short supply, it looks for alternative fuel for the body, thus burning body fat.
But as with any diet, it can be difficult to find meals that you won't get sick of. So we rounded up 10 keto-friendly meals that you can whip up. The best part? All you need is a Crock-Pot and you're game.
If you're still braving the winter chill, cook up this cheesy, spice-packed soup. The beauty of this soup is that you can adjust the servings accordingly to match your macronutrient needs.
---
While it isn't a complete meal, these bites make the perfect appetizer for a girls' night in. This recipe subs the dough found in traditional chicken bites with bacon instead. Yum!
---
Pork chops are actually so easy to add to your weekly dinner rotation. This delicious recipe takes only 15 minutes to prep and your slow cooker will take care of the rest.
---
We know veggie noodles are old news, but did you know you can cook it in your Crock-Pot? Yep, simply add your favorite gluten-free meatballs for a tasty keto-friendly meal.
---
Satisfy your craving for Mexican food with this tortilla-free enchilada recipe. Missing the tortilla? Add more cheese — it'll taste just as good.
---
As you power through the last few days of winter, warm your tummy with some tasty chili. With the omission of beans, potatoes, and corn, this chili is perfect if you're on the keto diet. Add extra avocado for your daily dose of healthy fats!
---
The easiest way to incorporate veggies is by throwing it into lasagna. Since noodles aren't the focus of this dish, spend extra time perfecting the tomato sauce.
---
When we learned that cream cheese was the base of this rich, creamy sauce, we were instantly sold. Combine the sauce with slide-off-the-bone meat and you've got yourself a crowd pleaser.
---
These shrimp tacos are great for anyone (keto or not). Choose from fresh or frozen shrimp and combine it with stewed tomatoes for the juiciest tacos ever. Simply wrap the shrimp in lettuce if you're watching your carb intake!
---
For the most comforting, tender meat look no further than this recipe. You can also make this and store it in the freezer for any last-minute weeknight meals.
xx, The FabFitFun Team