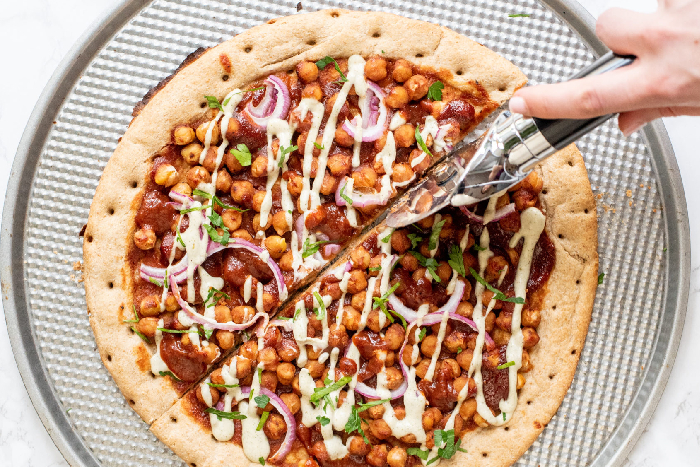 Feature Image by Healthy Girl Kitchen
When was the last time you incorporated chickpeas into your meal? If your answer is "recently," then fantastic! But if you haven't, we can't help but ask, why not? Chickpeas are a type of legume that's high in protein and fiber, and you can use them in a multitude of unique ways in the kitchen — no matter whether you're vegan, vegetarian, or a frequent meat-eater.
As inspiration, we rounded up ten recipes in which chickpeas are the star ingredient. Our list includes everything from quick snack recipes to dinner ideas and everything in between. What they all have in common (besides the chickpeas) is how innovative they are.
Ahead, discover chicken-less butter chicken, chickpea cookie dough, and more dishes you'll love.
For a super easy dinner that looks gourmet, follow Claire of Eat With Clarity's 15-minute sesame chickpea recipe, and then team them with instant pot rice, steamed broccoli, and scallions or chives to top it all off. Yum!
---
Yup, this recipe tastes just as good as it looks in Rainbow Plant Life's photos. Whip it up for brunch or dinner whenever you're craving something hot, and you'll probably find yourself doing so time and time again.
---
We couldn't resist including this recipe, perfect for saving for when you're craving a guilt-free savory snack.
---
Believe it or not, this butter chickpea recipe (the vegan take on butter chicken) can be yours in just 15 minutes. Peanut butter is what Earth of Maria deems the "secret ingredient" of this deliciously creamy plant-based meal.
---
Screenshot this sweet and spicy firecracker meatball recipe because it's a great versatile dish to keep in mind for, er, every occasion. Put them on a roll to pack one for lunch or serve a plate of them at your next family get-together.
---
We can't talk about innovative chickpea recipes without mentioning chickpea cookie dough, a healthier alternative to the sugar-packed tubs from the supermarket.
---
If the pictures of these shawarma wraps don't convince you to make them, consider the following review left under the recipe's comments section: "I only made these because I had some garbanzo beans that I needed to use. I wasn't expecting much. Boy was I wrong! These were amazing. I will be making them again soon."
---
You're looking at the recipe that everyone's going to want to steal from you after making it for your next spring or summer gathering.
---
The tahini drizzled on the tops of these chickpea and spinach stuffed sweet potatoes takes them from good to next-level.
---
It would be cruel to curate a recipe guide and not include pizza. This one requires just five minutes of prep time and ten minutes of cook time — and if you're anything like us, you'll probably finish it in even less time.
Do you have any favorite recipes that use chickpeas? Let us know in the comments below!
  xx, The FabFitFun Team